With so many workout options available these days, it can be hard to find the right exercise to suit your specific fitness needs. Simplifying your choice, the Indoor Rower offers a comprehensive workout experience to meet a wide range of training purposes…
#1 Exercises All Major Muscle Groups
It is hard to find exercises that comprehensively work all major muscle groups at once, and the Indoor Rower is hard to beat in this department. The rowing movement allows the legs to take the initial resistance, with the core, back and arms working to carry the weight of the stroke through to the finish. With adjustable flywheel technology, the Indoor Rower allows you to manage the weight of the stroke, so you can start light and increase the resistance as you feel your body growing stronger. Why spend an hour in the weights room servicing each muscle group separately, when half an hour on the Indoor Rower has all your bases covered?



The Concept2 Indoor Rower exercises all major muscle groups for a true full-body workout
#2 Cardio Endurance Training
Another advantage an Indoor Rower workout holds over conventional gym workouts is endurance application. Unlike strict weights or cardio, the Indoor Rower exercises strength and endurance simultaneously, making it a truly comprehensive workout. The Indoor Rower offers you the freedom to take different approaches to your workout, maximizing strength or endurance through adjustments to resistance and rating*- rate lower at a high resistance for a strength focused workout, or rate higher at a sustainable resistance to focus on endurance.
*Rating refers to stroke rate, measured by the number of strokes completed per minute.
#3 Workout Variety
With the ability to alternate and combine strength and endurance, the indoor rower is perfectly placed to take on a variety of different fitness approaches; whether it be short and sharp HIIT workouts, or low intensity, longer duration sessions. Whatever workout trends come on your radar, the Indoor Rower gives you the platform to attempt them. With a lightweight frame and handy roller wheels, the C2 Indoor Rower can be relocated effortlessly, making it the perfect machine to fit into a training circuit, or simply to enjoy an outdoor workout on a fine day.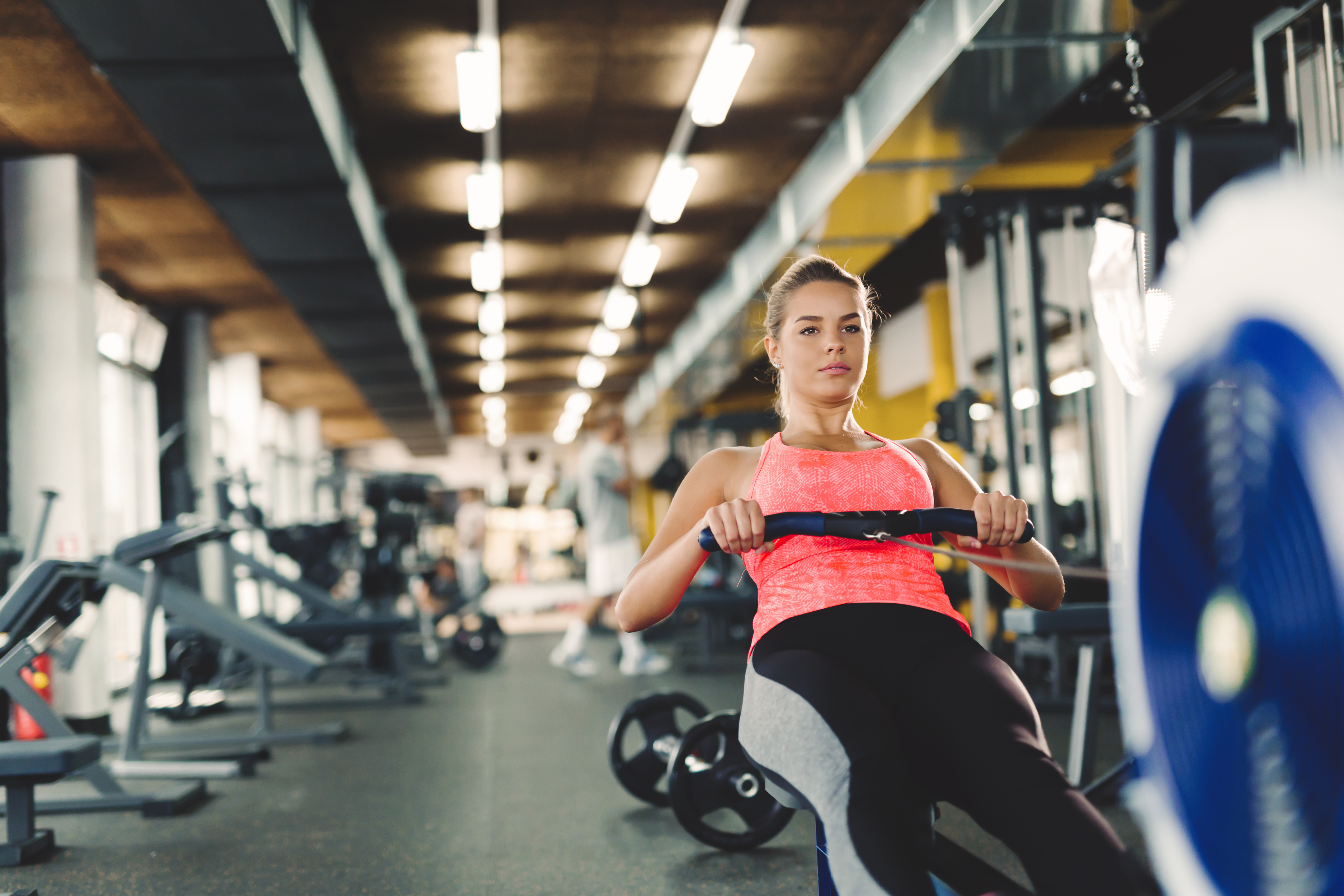 The Concept2 Indoor Rower offers a wide variety of workout options to suit any fitness goal
#4 Instant Performance Feedback
We all want to see the results of the effort we put into our workouts, whether it's on the waistline or progress towards a fitness goal. The PM5 performance monitor on the C2 Indoor Rower has a wide range of data fields giving you instant feedback on your workout, including calories burned for those interested in weight-loss, to wattage and speed for those striving to get ahead. Whatever is driving your training mission, the C2 Indoor Rower has the feedback you need to see your progress and stay motivated.
#5 Comfort
The value of comfort on an exercise machine shouldn't be underestimated. We all know to avoid those machines in the gym that feel unnatural, or inflict (unnecessary) suffering! The C2 Indoor Rower takes this consideration seriously, with easily adjustable foot straps to suit all heights, and an ergonomic handle that is both easy on the hands, and comfortable to hold. Concept2 also offer a seat pad option to further aid comfort, so nothing will stand in your way of a complete, and satisfying workout.
Whether you are looking to tone up, lose weight, or strive for sporting success, you can't go wrong with a Concept2 Indoor Rower. Click through to check out our Purchase and Hire options today!