Aoraki Matatū is a Waka Ama team from the Te Waka Pounamu Outrigger Canoe Club (www.twp.net.nz) based at Naval Point, Whakaraupō/Lyttelton. At the end of January, the team competed in the New Zealand Waka Ama Championships, arguably their most successful nationals ever, with gold medal performances in the 500m and 1000m events earning them qualification for the World Championships to be held in Tahiti in July. We caught up with team member Craig Pauling to find out more about the team, their 2018 campaign, and why the Concept2 Indoor Rower has become a part of their training regime!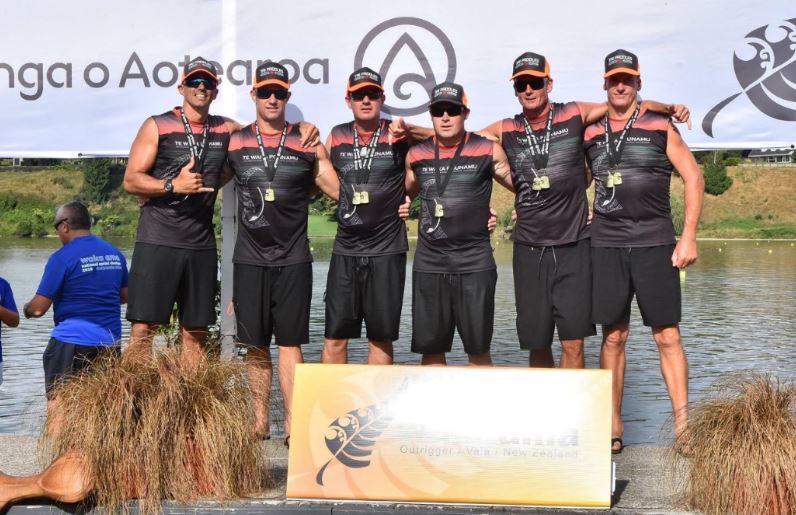 The team took gold in the 500m and 1000m events at the New Zealand Nationals,

as well as a bronze in the W12 race with their club mates.
How long has the team been together?
A number of our team have been together for over 15 years, starting out for our club, Te Waka Pounamu in 2001 – the year we established the club in Ōtautahi/Christchurch. We do have 2 new members that joined us in 2017, after some of our previous team members retired after our last successful worlds campaign in 2016.
For our most recent campaign for the World Champs in July this year, we began training together in May 2017.
Members of the team include: Iaean Cranwell (Ngāi Tahu), Justin Roberts (Ngā Puhi), Murray Marquet, Ross Gilray, Todd Jago (Ngāti Raukawa) and Craig Pauling (Ngāi Tahu).
What makes the team work so well together?
First and foremost, we are friends who respect each other. The team and competing are somewhat secondary to this. We all have families too, and also understand that they are the most important things in our lives. We have definitely had our moments and tough times, but overall, we understand what it takes to get the best out of each other, and that is when everyone is on the same page, we have trained hard and we all feel confident, and trust in what we have done.
What would a typical on water training session look like?
It depends on what phase of our programme we are in, and also whether we are training in a single waka or in a six-person canoe – called a W6. Generally, we do a quick check in about what the plan for our session is, what the weather is doing, then grab our safety gear, load our waka and get into a warm up piece, then stretch and do our training piece. This is followed by a warm down, unloading and cleaning our waka, high fives, a quick debrief, showers and then off home or to work!
How often would you train each week when you are preparing for a big event like the nationals?
6 days a week! And often this includes 2 different sessions a day – 1 in the canoe and 1 out. 3 or 4 sessions are together as a team, and the rest is done in our own time.
What types of other training do you find useful off the water?
Indoor paddling sessions on our Concept2 ergs, teamed up with the PaddleSport Training System Paddle Adaptor are best – especially during the cold of winter in the South!! It is great for technique, sprinting as well as endurance pieces.
How does the Concept2 Indoor Rower assist you and your team in training?
As above, the Concept2 erg teamed up with a Paddle Adaptor is great for off the water sessions, especially when it is too dark, too cold or too rough to paddle. In particular, they are great for technique, sprinting as well as endurance pieces. Being able to accurately measure distance, time and cadence are all great features that help get great results.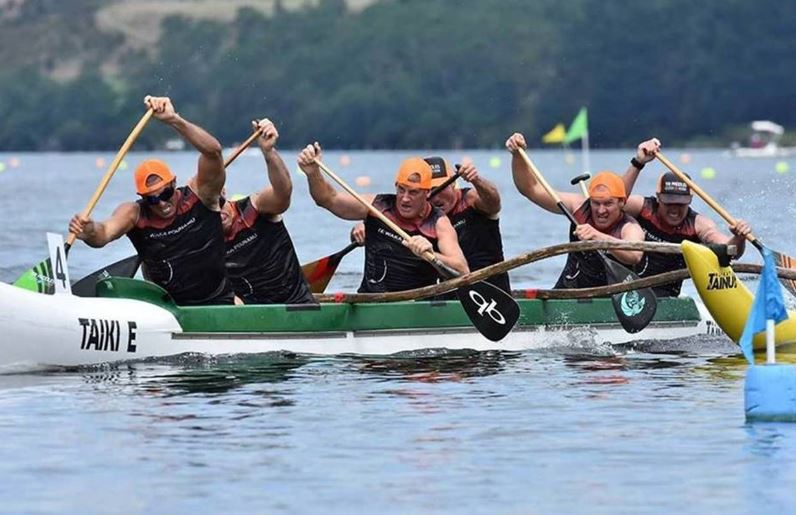 Aoraki Matatū in action on Lake Karapiro at the New Zealand Waka Ama Nationals

What does a typical racing season look like for you?

Well it goes all year really, with 2 main seasons. A sprint season from spring (Sept) through to the end of Summer (Feb), and then a long-distance season from February through to the middle of winter (June-July) – mainly because it just gets too cold for racing and training in the South after that. There are a number of major races we do each year, mainly in the South Island – starting with our sprint nationals at Lake Karapiro in January, then the Takapuna Cup (42km changeover marathon) in February, our own clubs Whakaraupō Challenge (15km) in March/April, Caroline Bay (15km) in May, Icebreaker (Dunedin – 21km) in June and then Long Distance Nationals (various locations and dates). We do the Waka Te Tasman (Kaiteretere – 1km, 8km and 12km) ahead of our Te Waka o Aoraki (South Island) sprint regionals in December. There are also a number of overseas races that we look to attend including world sprints (every 2 years), world long distance champs (every alternate year), the famous Molokai'I crossing, Hawai'i (70kms), Gold Coast Cup, Australia (42kms), and the enjoyable Vaka Eiva Festival, Rarotonga. There are also other races in Samoa, Rapanui, Fiji, as well as America, Brazil and even in Europe, and of course the most famous races in Tahiti that we have on our bucket list!
What does your recent success at nationals and qualification for worlds mean to the club?
It means a lot for a little club from Christchurch – that we only started in 2001. We have had a bit of success over the years across the club, but the most pleasing thing is what we hope it will do for our next generation of paddlers coming through our club. We have about 50 rangatahi (youth) paddlers that we hope to take to nationals and beyond over the next few years.
What are your goals for the world championships?
To win 3 golds. At the last worlds we got 1 gold and 2 silvers, so naturally we want to do better. However, it is going to take everything we have and some. Being in Tahiti, the spiritual home of va'a or waka ama, the Tahitian teams are going to be hard to beat, but that's what we do this for – for the challenge and to push ourselves.
What do you love about competing in Waka Ama?
It's the whole culture and identity that comes with waka ama. It is deeply routed in our Polynesian heritage, and so it is much more than a sport. It is a way of life, involving people, language, tradition as well as adventure. It just happens to keep us fit and healthy too!
What would you recommend to someone who has seen Waka Ama racing and thought they would like to give it a go? What is the best way to get started?
Check out the wonderful Waka Ama New Zealand website- read about the history and culture of the sport and use the 'find a club' tab to make contact with a local club, find out when their next club training is, and get along to it!!! It really is that simple. You won't regret it, but I warn you, you might get addicted!
As part of the campaign for this year's world championships, the team is looking for sponsorship to support their travel, uniforms, equipment and accommodation. Any contribution, large or small, would be gratefully accepted, with advertising and marketing opportunities available to potential sponsors. The event itself will be live-streamed on the internet and various social media channels, and will also be covered by Māori TV, as well as networks in Tahiti, Hawaii and Australia.
Interested in supporting the team in their World Championships campaign? Get in touch here!