Coming Soon- The New Concept2 BikeErg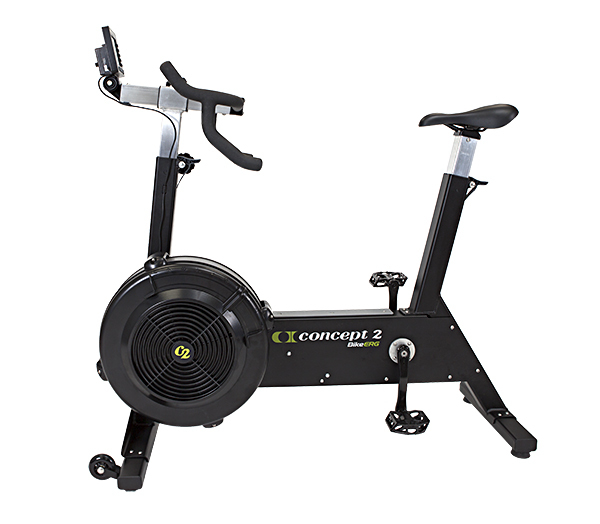 The latest rendition of Concept2's renowned flywheel technology will enter the indoor bike market with an earned reputation for performance and quality.
First developed in 1981 for the industry leading Concept2 Indoor Rower, Concept2's Flywheel technology has long provided responsive, realistic resistance, making it the perfect design to adapt into a road-like indoor biking experience. Whether you are a competitive cyclist or simply enjoy the bike for general fitness; you want a seamless indoor riding experience, that allows you to accelerate or cruise without compromising resistance performance. The Concept2 BikeErg builds on a company tradition of excellent indoor performance machines, designed to simulate technique and exertion just like what you would experience outdoors, be it rowing, skiing, and now- cycling.

Key Features:
PM5 Performance Monitor
The BikeErg features the Concept2 PM5 monitor, a sophisticated yet easy to use training device offering a wide range of data including: pace, cadence, watts, and calories. Training data is store automatically in either the monitors in-built memory, or optional USB stick. The PM5 is both Bluetooth and ANT+ enabled, allowing you to connect to most wireless heartrate straps, as well as the free Concept2 app, ErgData, third party apps, and the online community. The monitor is powered by two D cell batteries when stationary, with power generated by the flywheel while you ride, saving you battery life.
Flywheel and Damper
The BikeErg uses the same flywheel design as our indoor rowers and SkiErg for a responsive continuous ride. The flywheel puts you in full control of your exertion and resistance, with an adjustable damper allowing quick airflow adjustments to the flywheel during the workout. As with the indoor rower and SkiErg, the damper is clearly marked to indicate levels of resistance.
Adjustable Saddle and Handlebars
Both the saddle and handlebar positions are easily adjustable using a secure, tool free ratcheting system. The handlebars move up and down, forward and back featuring three different handlebar riding options, making it easy for you to find a comfortable position.
Customization
Prefer your own set up? That's no problem. The BikeErg fits most standard bike parts, enabling you to switch out your own saddle, handlebars and pedals, so your set up feels the same as your outdoor bike.
Chain Free
The BikeErg uses high-strength polygroove belts rather than a chain for a quiet ride. The belts are self-tensioning to help extend life and reduce maintenance.
Lightweight and Mobile
The BikeErg's aluminum frame makes it both light and durable, while caster wheels give you the freedom to move the bike around effortlessly. Weighing just 26kg, the BikeErg is lighter than most stationary bikes, and with the same durability and sound construction Concept2 machines are renowned for.
Watch this Space!
We will be excited to share more features of the BikeErg with you shortly, as we look forward to it's anticipated arrival in New Zealand in January 2018