The Invictus Games are the only international adaptive sporting event for wounded, injured and ill active duty and former service members. This year's event, from 20–27 October, will involve 500 competitors from 18 allied nations in 11 different adaptive sports.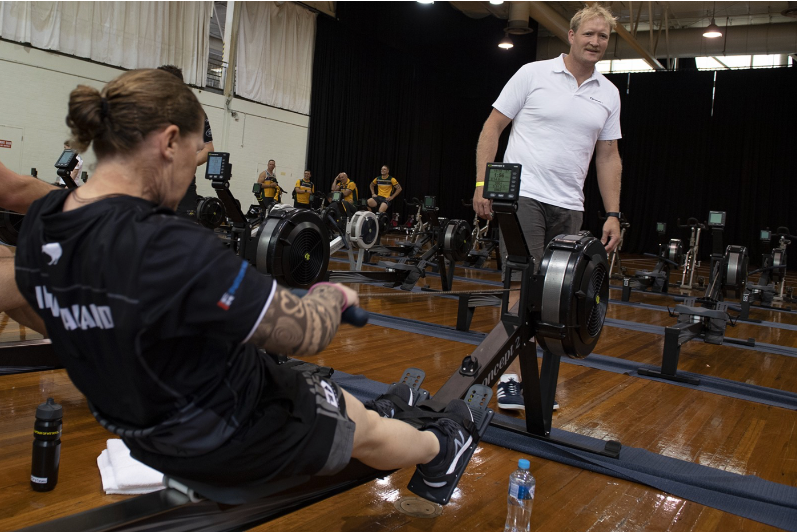 Rowing great Eric Murray watches NZDF Invictus Games team member Kiely Pepper at training in Sydney this morning.Double Olympic gold medallist rower Eric Murray is lending his skills to the New Zealand Defence Force's (NZDF) Invictus Games team. Image: NZ Defence Force

We were grateful to catch up with Eric when he returned home to NZ after being at the Invictus Games and here is what he had to say about his experience:
"There are some really inspiring people in life, and no more so than the athletes competing at the INVICTUS Games.
Recently, I had the privilege and honour of meeting the NZ INVICTUS Games team in Sydney in their preparation for the 2018 edition of the competition, in their final training on the Indoor Rower. There was such a vast array of ages, physiques, abilities, but they all had one thing in common; Being the best they can be, on the Concept2 rower.
Finding the ins and outs of the competition gave me an insight into what lay ahead for the team. A 1-minute & 4-minute race were the 2 options available for the competition, plus the different classifications for varying abilities. Not 'one size fits all' but that does not detract from the attitude you see, with everyone there to put their heart and soul on the line in order to be the champion.
I started to feel like there wasn't much I could help with, as they rowed well, they had a great coach, Sgt Ray Boardman, who was driving them hard in their routines, but any motivation I could add was a bonus to the preparation. And that's exactly what they wanted, the chance to meet me, which of course, I'd done something special with my rowing career.
We went through a rigorous session of pieces and I helped with some advice for a few athletes around feel and setup and made some very slight changes to the 'thinking' as they were all doing such a great job. I wasn't envious at all, I know where their minds and body were and it was great to be on the other side of the fence.
Before I knew it, the session was done and it was a great opportunity to sit down with a few members and just chat away while enjoying being at such an awesome event. To see the energy and vibe coming from everyone at the INVICTUS Games was actually very inspiring to me and I can't wait to be involved with more of the team in the future on the Concept2."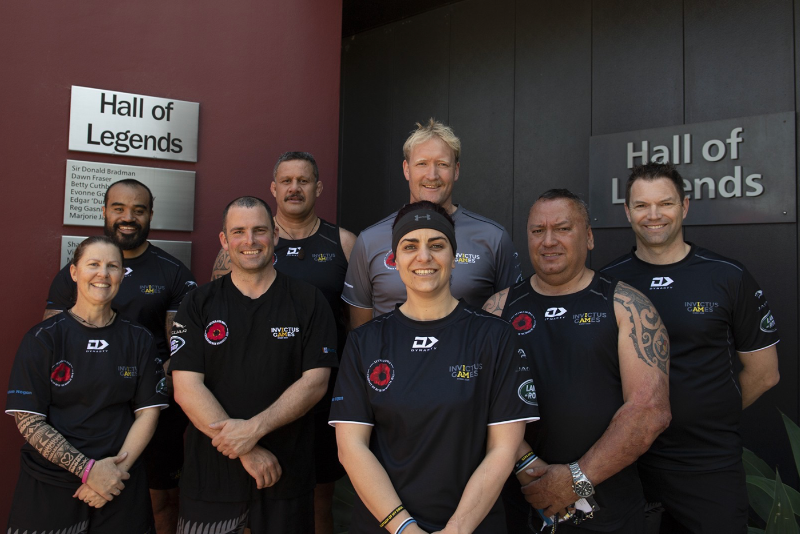 Rowing great Eric Murray watches NZDF Invictus Games team member Kiely Pepper at training in Sydney. Image: NZ Defence Force

The Invictus Games Sydney 2018 are presented by Jaguar Land Rover. The NZDF team is sponsored by Auckland RSA, Christchurch Memorial RSA, Fulton Hogan, Jaguar Land Rover and Direct Sport.