Jackie Kiddle: Perseverance pays-off on the path to the Lightweight Double
It's easy to watch a rowing race and assume the toughest battle is being fought in real time in front of you. Finely tuned athletes representing their country on the world stage, battling it out for the right to call themselves champions. But in reality, half the battle has already been fought just to earn the right to race. As a lightweight rower in the talented New Zealand squad, amongst a spoiling of women vying for just two Olympic seats, Jackie Kiddle has seen her fair share of disappointments and success- the latter coming recently in the form of victory in the lightweight double at world cup three in Lucerne. Now a favorite for gold at what will be her first world rowing championships, we caught up with Jackie to learn more about her rise up the lightweight ranks, and her experiences in rowing so far.
Rowing is not a sport for the faint hearted, especially in Wellington where Kiddle got her start. Sports mad from a young age, it was her dad's enthusiasm for rowing that got her in the boat…
My dad suggested that I'd be good at rowing. He's funny, I think he regrets not giving it a go and he kind of identified it as something that took a lot of determination and fitness to do, and I was pretty sport oriented so he thought that would be a good thing for me to do. All rowing at school he was the boat man, he wants to be involved in anyway shape or form, he just had to be involved. He couldn't not be in the boat park at regattas, so if the coaches gave him a job he'd do it. He would polish the boats, clean the slides, whatever job that they could find for him to do, so he was very hands on. He would often come down to the sheds and help out and do as much as he could.
If you aren't lucky enough to have been to Wellington, suffice to say the city is famous for its high winds, and (often) rough seas. Not the perfect combination for Rowing, but as Kiddle explains, the determined local clubs find a way around it
It's very different to the water at Karapiro. It's rough and its sort of wavy and unpredictable and you've got a lot of boats, ferries and swimmers so there's a lot going on. Often, especially as inexperienced rowers, you can't actually get on the water because it is too rough, so most of what we did through secondary school was on-land training. A lot of running, a lot of ergs, circuit training and very light weights. We used to say we would get on the water once a fortnight, that was about the average.
Kiddle credits the character building conditions of Rowing in Wellington as part of creating an enjoyable rowing environment which kept herself and teammates coming back, while also testing her drive…
I think all the schools down there have a pretty good atmosphere and environment where there's a lot of team building and they try to make the land stuff as fun as possible. It was like having a close-knit group of friends and you went through each year with the same group. I think for many it was more that than the actual rowing, and you see that in the senior years, there is quite a big drop as it gets harder and more is demanded of you. I guess it filters people out, only the really determined ones keep going. You have to love it to keep going.
Quite a contrast then to the long km's regiment of the New Zealand National Squad, which Kiddle got her first taste of as a member of the U21 Team.
My first u21 campaign just felt ridiculous. I was actually getting time on the water to learn how to row properly, and mentally it was very different because I spent a lot of that time in the single. I definitely saw an improvement in the technical side of my rowing, but it was very tough.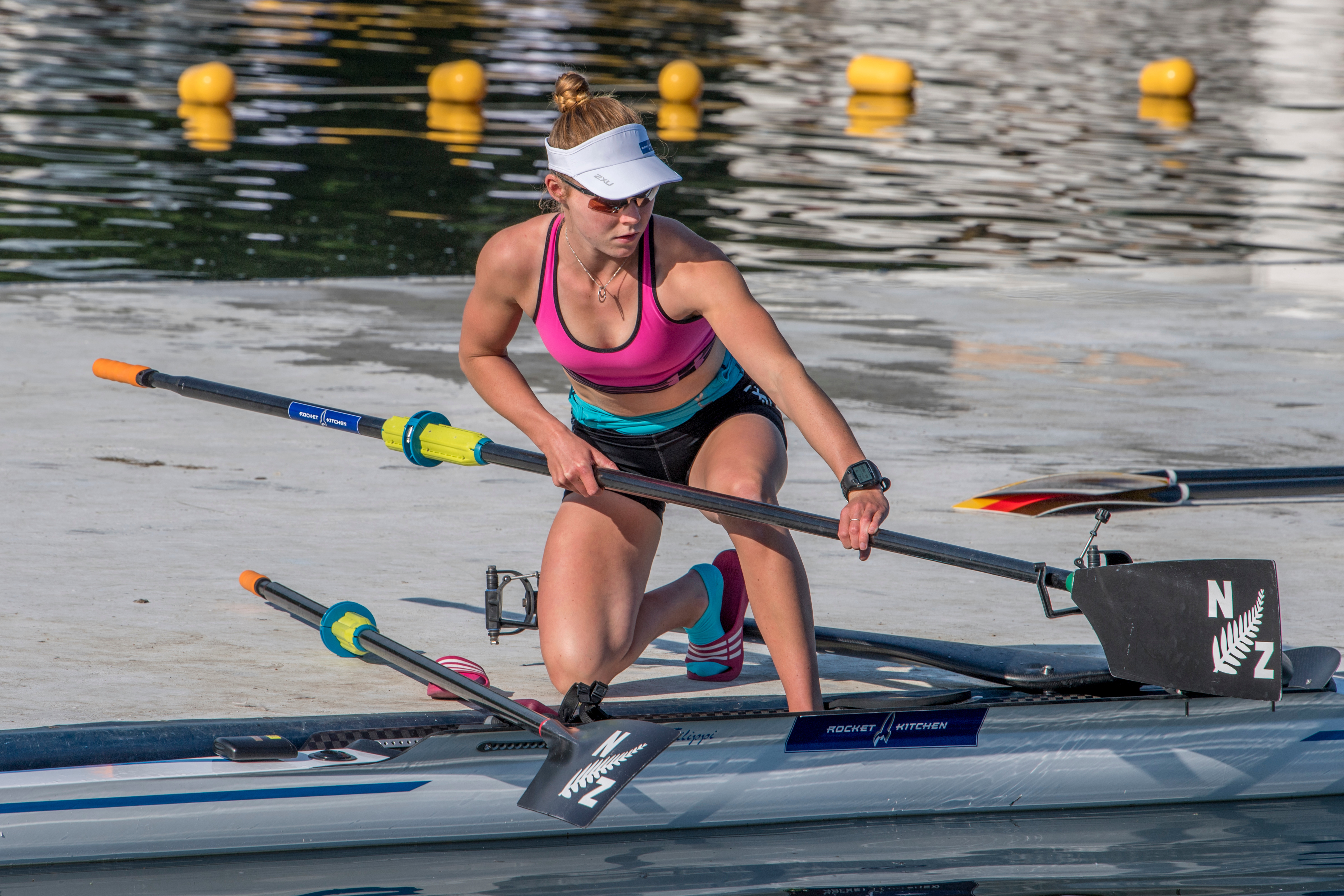 Jackie preparing for a row in the single at the 2017 World Cup 2 Regatta in Poznan, Poland

Despite the challenges of her early rowing experiences, Kiddle's determination and perseverance saw her progress through the New Zealand High-Performance pathway, earning her medals in the lightweight double at the U23 world champs (Gold in 2015, Silver in 2016). One of four lightweight women in the New Zealand High Performance training squad in 2016, Kiddle went into the Olympic trials with an outside chance of making the Rio crew…
For me it was quite a hard summer, because there were four of us going for two spots. Zoe and I were sort of the under dogs pushing up, and that's always tough, trying to stay with the older girls while they were constantly trying to push away from us. Understandably that created a bit of competition.
I think that trial was very different to other trials. There was a lot more tension with everyone in general, it was a way more stressful environment than previous trials. For me, leading up to the trial I knew that I wasn't in the top double at that point, and there probably wasn't a massive chance that I was going to be selected in that boat. But I think in that kind of situation you have two ways to view it, and the first one was kind of- I can just go to the trial, experience the trial, experience an Olympic trial and sort of admit that I'm not going to be in that top position but go in a see what it's like, or, I can go in and give it absolute hell and try and make the boat. Really, none of us were going to be there if we weren't going to take that second approach, so everyone was out there fighting to the death pretty much. There were some tight races, and that was quite hard because every race that I did I would be in the loosing boat, but only by about half a length. That started to take a bit of a mental toll as well, just always being behind everybody, every time. That was really hard, I had been a part of the elite squad, but at the end of the trial I wasn't as I wasn't in an Olympic crew.
With Zoe McBride selected as the travelling reserve to the lightweight double of Julia Edwards and Sophie Mackenzie, Kiddle was isolated in her exclusion from the team. It was an unsettling time, at 21 years old she was still eligible for her third U23 world champs team, but she would have to trial again if she were to be considered for team selection. Trouble with the erg added to her woes, weighing on her mind as she tried prepare for the next trial…
I was sort of in a state of a panic, like "where do I train from now? Where do I go? Who is my coach? What is my program? What do I do?" I felt like I was in limbo. Fortunately, Dan Kelly took me under his wing and I got to row with Waikato so that was good, and I had fun. I really just wanted to enjoy rowing again in that training block, and rowing with Waikato I got to row in all sorts of boats, I rowed in sweep boats and quads and rowed with heaps of different people just to give myself a break.
Going into the U23 trial, I didn't mind the fact that I had to trial again, that's fair, they've got to put a boat together. The erg test… I didn't want to do another erg. It's just such a mental barrier, and I was having this technical issue with it and I remember leading up to the erg it kind of hit me, is this going to get worse?
From what seemed like a hopeless situation, Kiddle was able to salvage a performance on the erg at trials that is now one of her proudest moments on the indoor rower.
I had a bit of trouble with my erging technique in that I started to sort of shorten up over the last couple of seasons, and that was really affecting how I was going on the erg. I was almost taking a half stroke instead full. My erg prep leading into the trial was not going very well at all and I was really upset about the whole situation. So, for me to go to the trial and to do this erg in that situation was intense. The trial situation itself is always intense, it's a horrible place to do an erg. It's designed like that, its meant to be a pressure cooker, but to go through it twice and to finish that erg was massive for me. I actually ended up with a PB, so I was absolutely stoked. I felt like I had really pushed myself to somewhere I didn't think I could go, and actually that was pretty exciting.
Kiddle would go on to be selected in the U23 lightweight double, earning a silver medal in the event at the world championships, a result that selected her to resume her place in the Rowing New Zealand Elite training squad. The summer culminated in the 2017 team trial, in which she was selected in the elite lightweight double, alongside her previous partner Zoe McBride for the 2017 world championships. The selection clearly means a lot to Kiddle…
It's pretty exciting. Zoe and I have been chomping at the bit to get in the boat. We got asked if we would like to have a black boat, and we had a giggle about It because of course we would like a black boat! To Zoë that was like her 'I've made the team' moment, you know 'I'm one of the big dogs now', 'I'm in the priority boat'. We are the priority boat now, we are no longer reserves, we aren't the u23s anymore, so taking that step was pretty exciting.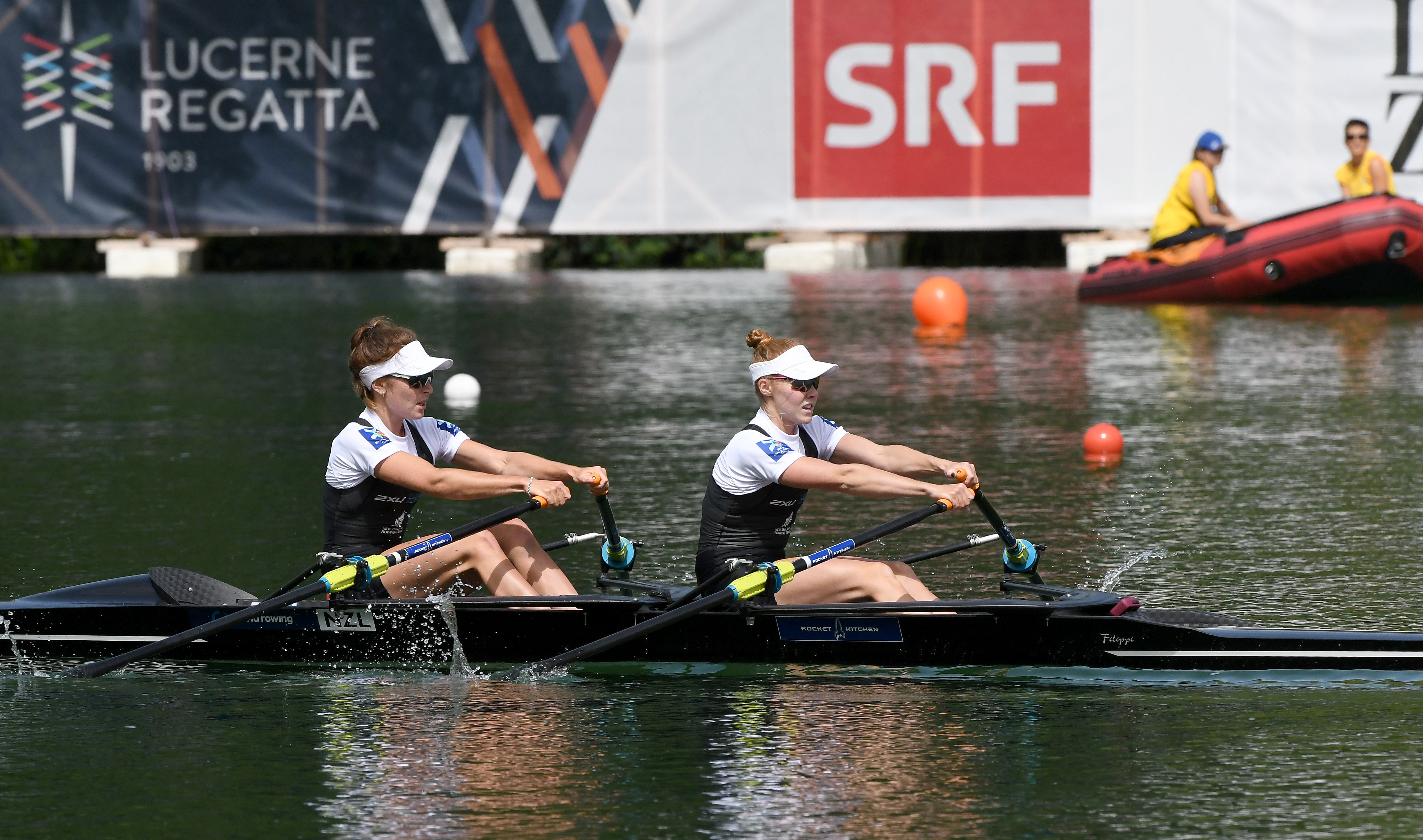 Zoe McBride (left) and Jackie Kiddle (right) on their way to victory at the 2017 World Cup 3 Regatta in Lucerne, Switzerland.
When asked what have been the keys to her rowing success, Kiddle is philosophical about how she has traversed her rowing journey, with the determination her dad identified in her in the early days shining through...
I guess it's a little bit cheesy but determination and perseverance. Knowing that the more that you work the closer you are getting even if it doesn't feel like it. Like last year for me when I didn't make the team, going on training with the Waikato squad feels like a step backwards from the Rowing New Zealand squad but actually it's a step in the diagonal, because you're still moving forward and still working towards your goal but you're just doing it in a different way. I think that for me is what makes a good athlete. I try and think of things in alternate perspectives, I could think in one way that might seem negative, but I also could think in a positive way. I think that for me is how I've managed to push through the tough times and how I've managed to be that top athlete because I've been able to keep going.
New Zealand Rowing has built a reputation of success in the small boat classes, with couplings such as the Evers-Swindell twins and Kiwi Pair going on to be paragons of the sport and household names. Each combination has its unique qualities, so how does the Kiddle/McBride combination click?
Out of the boat we are not tied to each other, we're good friends but we are very independent. We have very different ways of getting ready for racing, and different routines when it comes to being at the course, and even in training we're quite different. We spend quite a lot of time apart when we're not around rowing, but when we're in the boat, we've talked about the fact that we'd take a bullet for each other. When you're in the boat you're doing it 100% for the boat and for the other person, so when we're in the boat you couldn't tear us apart. I like that as a boat dynamic. I feel like if your tied to each other the whole time it can very easily fall apart if something goes wrong, whereas this way we get our space and we have our different lives, but when we come together in the boat it's one unit, like one person, so that's pretty cool.
While McBride already has an impressive record in the lightweight single, an injury meant that it was Kiddle's turn to go solo at the second world cup regatta in Poznan. Having raced in the single in 2015, narrowly missing the podium on two world cup outings, it was the perfect opportunity for Kiddle to show her progress…
it was really cool to get that opportunity to race the single, and my coach Gary said to me "this is your opportunity' "because there might not be another one. To me, Zoe has proven herself on that elite stage and I feel like I hadn't quiet, so to be able to say 'We know what Zoë brings to the boat' and 'this is what I bring to the boat' was quite cool. I felt like I had some unfinished business in the old single. We both raced in 2015, Zoë won them all, but I had come 4th at u23's in 2014, then 4th at the world cup 2 and fourth at the next world cup in Lucerne, and so to get to the top of the podium was pretty cool.
Kiddle's win in the single in Poznan, and the combinations emphatic victory in the double at Lucerne bodes well for the World Championships in September, but the pair are taking things one step at a time.
We're feeling pretty good, I think both of us learnt a lot over that Europe tour and over the season we have had so far. Neither of us are complacent, we're the kind of people who are always pushing, always wanting to make the boat go faster. We're prepared that there will be different crews in Sarasota, there are going to be people we have raced who are going faster, and people we haven't raced and we don't know what they're doing. It is always a competitive event, so you never know what people are going to do, all we can do is focus on ourselves and what we can do to go faster. This is my first experience in an Olympic class event at elite level so that is exciting. I'm just trying to learn and absorb as much as I can from everything, overseas and training in New Zealand as well.
Outside of rowing Kiddle keeps busy, studying for a Bachelor of Science in Animal Behavior, and drawing sketches which she sells on her website 'Pets by Pencil' to help support her Rowing career. Kiddle credits these passions outside rowing with keeping a balance to her life…
I think the reason I started drawing in the first place was that it was a way to take me away from rowing and mentally completely separate my mind from rowing, and uni, while doing something that's relaxing and rewarding, and different to what I do every other hour of the day. So that was how it started. It's sort of funny how they all sort of end up slotting into each other though, sketching helped me out last year because I had a project for uni where I had to draw some birds so it was quite handy. Somehow, I've managed to fit my three passions into my life, rowing, drawing and animals, so that's pretty cool.
Looking to the future, Kiddle is clear on what she wants out of rowing, encouraged by her near miss in 2016, she's all in for Tokyo 2020
When I was sort of losing all of those trial races by just a little bit, I knew how close I was and in some ways, it was a kind of a wakeup call like 'I can actually do this'. I can actually get there. I feel like it made me a lot more focused, you put the blinkers on and you go 'right! that's the aim'. I know it's realistic now, and there are no distractions, I know what I have to do.
Obviously, a gold medal in Tokyo is the ultimate. I think that when you get to this level if that's not your goal then you shouldn't be here, so for me it's definite- I want to go to the Olympics. I am determined to throw everything at the next three years and just give Tokyo everything that I have to try and do the best that I can, and I think you can't ask for more than everything you can give something. To walk away from Tokyo and be able say 'I threw everything at the last 3-4 years' that would be my goal.
With her enviable combination of physical ability, resilience, and determination; Jackie Kiddle is emerging as a force to be reckoned with in the lightweight women's field. Catch Jackie in action with partner Zoe McBride in the Women's Lightweight double at the 2017 World Rowing Championships in Sarasota Bradenton from 24TH September-1st October.
Fast Facts
Name: Jackie Kiddle
DOB: 16/7/1994
Hometown: Wellington
Rowing Club: Star Boating Club
Started Rowing where/when: in Wellington in September 2008, first year of high school.
Sporting Idol: I am inspired by people who have overcome adversity. On the world stage Jessie Owens is an inspiration to me, closer to home Lucy Strack and Courtney Rennie are two lightweight rowers who have had technical obstacles that they have persevered through and I have found watching them handle and push through those really inspiring.
Biggest Supporter: Definitely my parents, as I said with dad, they just can't stay away, they have to be involved and they've come to almost every international campaign that I've been to. So, they are completely committed to following me around the world, and through school and RPC, everything they are 100% behind me.
I am embarrassed to admit that I….am addicted to marshmallows. I'm not sure if that's embarrassing but it is true, I have an unhealthy marshmallow addiction.
Check out Jackie's enterprise 'Pets by Pencil' to learn more about her sporting and artistic endeavors: http://www.petsbypencil.co.nz/