There are some perks to being at the bottom of the world, and when it comes to Rowing getting to train in summer weather while the rest of the world has snow and ice to contend, is a big one! No surprise then that New Zealand is becoming the training camp location of choice for an increasing number of international rowers, and this season was the season of the Irish!
Mark O'Donovan and Shane O'Driscoll are the 2017 world champions in the lightweight men's pair, training in New Zealand for 6 weeks along with Rio Silver medalists in the lightweight double, brothers Paul and Gary O'Donovan. We were lucky enough to catch up with the lads while they were here, and chatted to Mark and Shane about their plans for the 2018 season, including a switch to the heavyweight pairs event…
First things first, how do you like New Zealand?
Mark: Love it, great hospitality from the locals, and the weather was good until today, its pissing rain now so. but that's just to remind you of home, it's still nice and warm though
Shane: The rain drops directly down horizontal rather than vertical stuff we get at home
Okay, so good rain then?
Mark: Yea it is good, its actually still warm even when your drenched
Shane: I suppose like, usually in January and February for us like its snowing at home at the moment so no way would we get 2km racing in this time of the year, its just always long miles and stuff, so it's great to I suppose a taste of that early in the season
Is that the goal of the camp, to get a bit more top end conditioning that you usually wouldn't get at this time of year at home?
Shane: Absolutely yea and hopefully help us when we go back to Europe for the first world cup and the second world cup you know I suppose we are living on cobwebs
Mark: We'll have a head start on everyone, it's like getting 200m up on someone in the race so
Have you found it easy getting set up over here, and getting everything you need for training?
Mark: What can you say, Concept2 they're a great company you know, we got on to Bob over and he directed us to Kate who passed us on to Gary (C2 NZ), Gary gave us whatever we wanted and arranged all the chauffeuring of oars so
Shane: and no shortage of grips!
Mark: Yea, Gary was quite surprised at how hard we are on the grips
So, in your book, if you're not changing your grips every two weeks you're not doing it right?
Mark: Haha yea, but the selection is there, you can row whatever you want compared to other companies that may only have one or two shafts or one or two blades. The design and the robustness of the stick is absolutely brilliant you know.
Shane: We wouldn't use anything else
Mark: We've been looked after that's for sure
Speaking of Concept2 (funny that), what are your thoughts on the Concept2 indoor rower?
Mark: It's a very good training tool when you can't get out on the water.
Shane: We had been stuck on it for weeks on end at home, never got on the water for weeks. I don't know if we've just gone soft in our old age or something but…
Mark: You do get incredibly fit on it because you can't hide away from it you know? But the machine is, like the Concept2 machine compared to any other machine is like the C2 is the gold standard and everything else is really, does it even come within 60% of actually being as good, so if not even worse, so that's their own fault, so yea delighted to be able to use them yea.
This year you've switched from the lightweight pair to the heavyweight pair, other than getting 'heavy' does much change in terms of your approach to your race, do you race it any differently do you think?
Mark: Um I suppose that's something that will have to be decided then and there on the day but we're not really going to approach it any differently. We'll still try and make sure training is going better and make sure we're getting the adaptations we are looking for and then we'll just race it as we're going to do really. We don't really focus on how we are going to race, we might have a few little things to work on, but generally its going stable really. You can't really stop Shane when he gets going, he doesn't want for much except to give that oar abuse!
Shane: It's just when I get going.
Mark: He likes saying 'don't treat the oar like it's your mother' you've got to treat it mean you know, to get the return of it.
What have you got your weight up to now if you don't mind me asking?
Mark: I was doing well, I was over 80kgs up until a few days ago really. I suppose since our coach Dominic Casey came over, he's been driving a lot of training onto us so yeah, we've just been doing too many kilometers really and we're all wrecked and we're all tired and just dropping off the weight, probably loosing a bit of body fat which is no harm. We were a bit fat in the belly there, couldn't really rock over but the arms are getting smaller, the belly is getting smaller.
Shane: But it was a good thing that Dominic did see that we were putting on a bit of weight and he was saying that we were like well-fed calves. He was saying we were so big our bellies were getting so big that we couldn't rock over and things, and I think that kind of frightened him a bit. But I suppose he's used to dealing with lightweights anyway.
Coming from an event with a weight cap and being told what you have to weigh, to an open weight category, is it hard to work out what your race weight should be?
Mark: I mean with good reason we're not going to be as heavy as most of the heavyweights out there, realistically, because we're probably going to be the shortest in the field.
Shane: It will take time like, I mean you know this is our first year. We decided back last November to go heavyweight so you know, we're not doing too bad as it is now. We'd always like to be heavier but it will take a bit of time, it's like losing weight it takes time to put it on as well.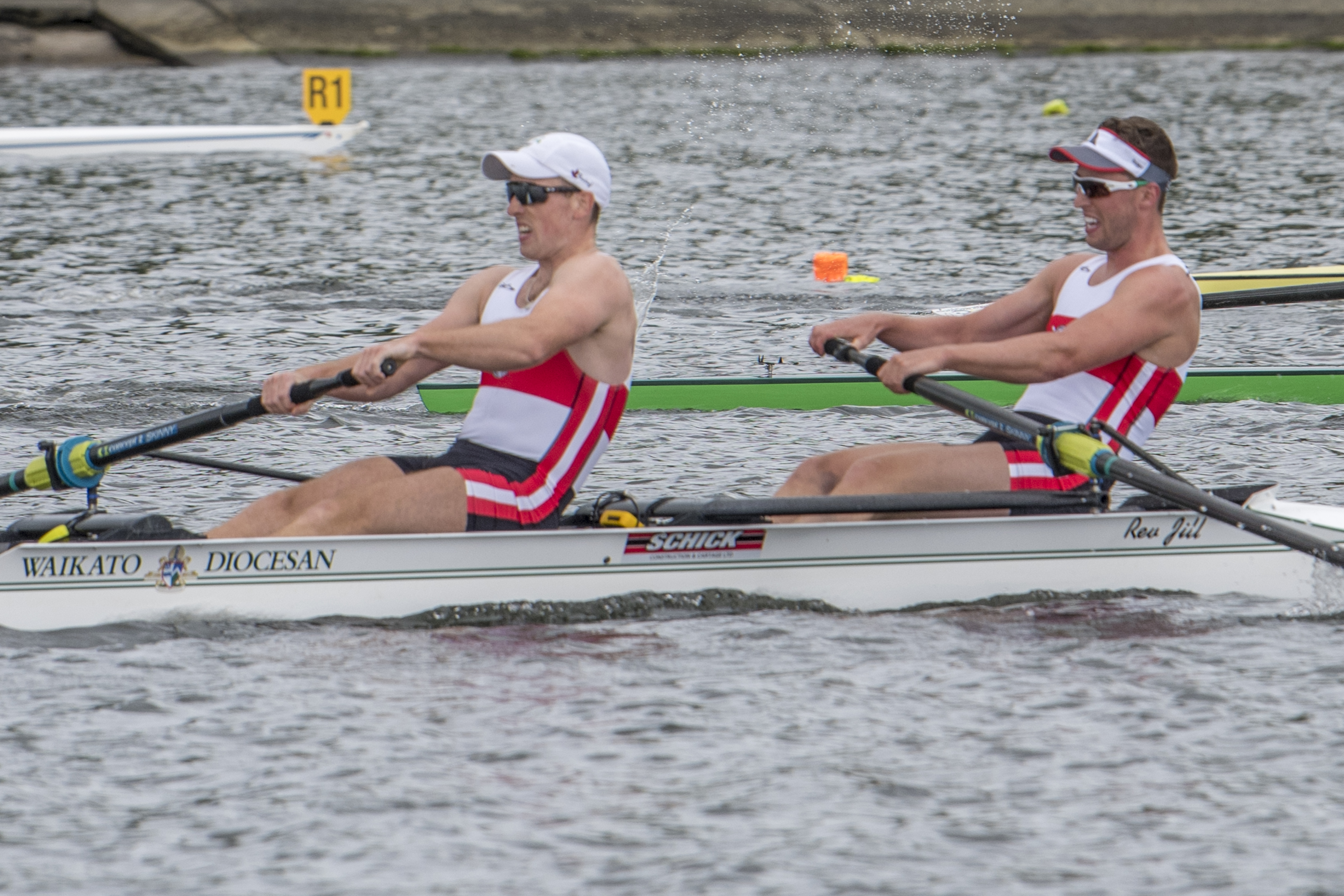 Shane (stroke) and Mark race the Men's Premier Pair at the 2018 New Zealand National Rowing Champs

Is the goal of going to heavyweight and making this change, to target an Olympic category boat and get to Tokyo?
Mark and Shane: yea that's right
Was it a bit of a disappointment for you when the lightweight four got cut from the Olympics? Is this a plan B to targeting that event?
Mark: There are various plans going on every year, plan A, B, C …plan A never works out. But um you know I suppose it was a great event, it was great to watch it, we never really competed at a high level in it so I don't have a personal attachment to it.
Would that have been the logical place for you in terms of the Olympic program up until now?
Mark: It would have been a very good prospect yea, and it would have been easier because we've got a lot of good u23 lightweights and you know they are coming up an awful lot, but ah yea I think it's the only way to go really.
Shane: We can't really control that you know, that decision was made and we just have to accept that and not dwell on it really.
I think a lot of people are really interested in decisions people like yourselves make, making the choice to go heavyweight or to switch to sculling, now that an Olympic berth in the lightweight four isn't an option. Is there quite a bit of interest in how you are getting on?
Mark: Yea. Of course, and it will be interesting you know. We're not going to be expecting to light the world on fire right away
Do you think having lightweights come in could make heavyweight rowing better? World-class lightweight rowers have a reputation for skill over strength, do you think that is something they will bring with them that will benefit heavyweight rowing?
Mark: There would be at times I imagine. But then it's also you know, they've got a massive advantage with levers and being bigger and their physiology is much better but like yea know at the end of the day most of them have to be told what to do so a lot of them can't really adapt to many of the situations that are given to them so, we always like to say that they're bungalows, they've nothing upstairs so its be nice to take on a few of these lads really.
Shane: We won't know until we get really stuck in you know and into some racing at home, just get it going and we'll see then you know. Last season we kind of changed our racing style a little and the stroke this season and I'm sure it'll happen again this year and the following year you know. Always just changing and seeing how we can go as fast as we can from A to B really.
What's the heavyweight program like in Ireland, have you got some talent coming through? Could there be a four in the future?
Shane: It's developing, I guess you know it's an area that we are really trying to pick up
Mark: It's been gone since 2008, and there was really nothing around for a couple of years then it's really only junior and U23 year levels that you might have something but a lot of them kind of fall off the rails again. But hopefully there will be some of them around that could push us on a bit and you know kind of try to edge away for seats and stuff like that as well you know.
There was a big representation of Irish rowers at the last world champs, Paul (LM1X) and yourselves won gold, and of course Paul and Gary got the medal in Rio, was that a boost for the sport at home?
Mark: With regards to numbers yea, so there's a massive influx in young athletes all the younger age groups, just a lot of numbers coming into the clubs. I see it with the bit of coaching I do in clubs around Ireland. A lot of them used to go recruiting but they don't do that anymore because its broadcast on national television, and there are just people flooding down to their local clubs they are having to turn away a lot of people. So it's good for the younger generation, and it will take some time to filter up.
Shane: I think school rowing is huge here as well, at home it's not as big, we rely on clubs really for developing youngsters you know.
After your stay in New Zealand you are heading to Australia? What are your expectations of Australia?
Mark: Much worse or much lower than what they are of New Zealand! Just a bit warmer weather at this stage is looking better, but hopefully its not so warm that we can't even step outside you know. We'll see, we don't want to be training too early in the morning either you know, but yea we'll take it as it comes, we did the longest stint here for a reason and that has been serving us well, but we're going to enjoy it really.
Shane: We're looking forward to it yea
Well it wouldn't be often that you get down here would it?
Mark and Shane: no no no
Mark: I think it's all our first times
Shane: Yea we're excited!
What did you like most about New Zealand?
Shane: The mountains, the hills, the lakes, the rivers, just fabulous scenery
Mark: Yea all of that
I hear you quite liked the Pineapple lumps, and Jelly Tip and Hokey Pokey Ice Cream?
Mark: Yea pretty good! That licorice ice cream was great too, Lewis road chocolate milk is fairly solid.
Shane: Yea it's all pretty good.

Next stop for Mark and Shane is the Australian Rowing Nationals from 19th-25th March.
All the best lads, we look forward to following your progress over the 2018 season!