It just wouldn't be right to do a Maadi preview without mentioning the courageous boys and girls who show up to go it alone. While Maadi history is full of tales of the glory of the eights and fours,the boy's and girl's U18 singles events are also highlights of the regatta; a place for those who aspire to the tradition of greats Billy Webb, Darcy Hadfield, Rob Waddell and Mahe Drysdale (to name but a few on the men's side), and a proud legacy of women's rowing icons including Stephanie Foster, Phillipa Baker, Sonya Waddell and Emma Twigg.
We take a closer look at the winners trophies for these standout events, and check out a few former winners who went on to represent New Zealand at the highest level!
The Charlie Stapp Cup: Boys U18 Single
The Trophy for the Boys U18 Single Sculls is another of the most coveted awards in secondary school rowing. Over the years the Boys U18 single has changed hands between several different schools, with the event encouraging exceptional athletes from rowing programs of various sizes to shine at the national champs. The trophy itself is named after the legendary Charlie Stapp, a long-time coach, and stalwart of the Otago rowing club and secondary school rowing in the Otago region.
Over the years winners of the Charlie Stapp Cup have gone on to represent New Zealand on the world stage, including…
2003: James Hargest High School, Nathan Cohen. New Zealand Elite Teams: Men's Double 2007, 2008, 2009, 2010 (Gold), 2011 (Gold), 2012 (Gold), Men's Quad: 2013.
2004 &2005: Queen Charlotte College, Joseph Sullivan. New Zealand Elite Teams: Men's Double: 2010 (Gold), 2011 (Gold), 2012 (Gold). Men's single: 2013.
2009: Havelock North High School, Giacomo Thomas. New Zealand Elite Teams: Men's Quad:2017, Reserve single: 2015, 2016. Selected as reserve for 2018.
2012: Timaru Boys High School, Cameron Crampton. New Zealand Elite Teams: Men's Quad 2017. Selected in the Men's Quad for 2018.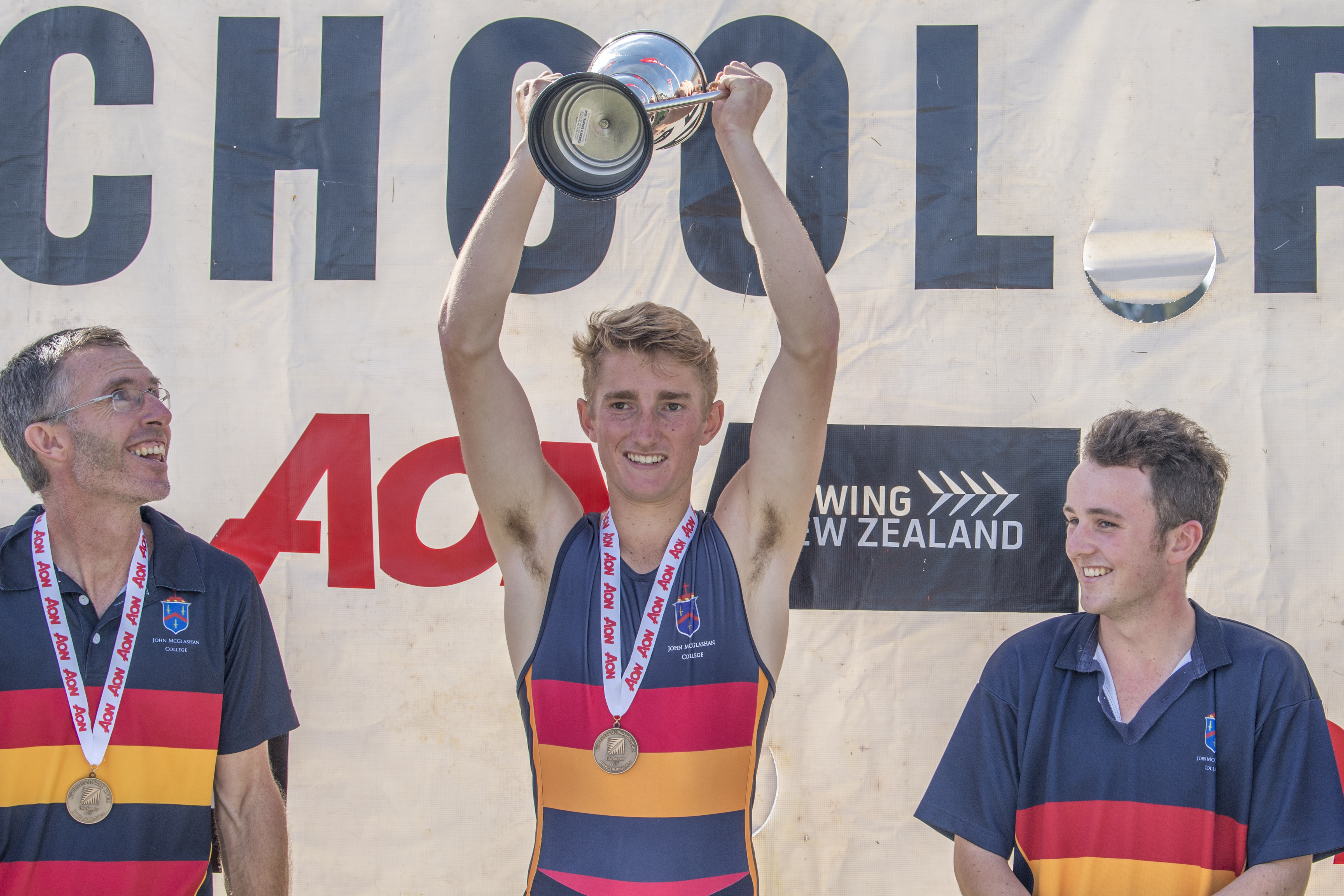 2017 winner Bradley Leydon of John McGlashan College with the Charlie Stapp Cup.

Looking ahead to 2018 after NISS and SISS…
If the North Island and South Island champs are anything to go by it seems we have some close racing to look forward to in this event at Maadi! Jack Gibbs of Roncalli college held off the South Island field with 3 seconds over second place getter Haxby Hefford of Ashburton with another 4 seconds back to Logan Anderson of St Thomas Canterbury in third.
Meanwhile up North, Sam Hogan of Cambridge High School took gold, with just two seconds back to Loftus Stanford of Wanganui Collegiate. Whanganui High School's Levi Carroll won the photo finish for third, with Sam Cummins of Kings College in hot pursuit just .09 sec behind!
The Stephanie Foster Cup: Girl's U18 Single Sculls
The Girl's trophy for the U18 single sculls at the National Secondary Schools regatta is fittingly named after a trail-blazer in New Zealand women's rowing- Stephanie Foster.
Foster represented New Zealand in the Single scull at World Championships and Commonwealth Games, and perhaps most significantly; became the first New Zealand woman to compete in rowing at an Olympic Games.
Foster began her world championships career at the 1978 regatta on Lake Karapiro, where she competed in both the coxed four and the eight. She went on to compete at two more World Championships in the single sculls finishing 5th in 1981 and winning the Bronze medal in 1982. Foster was the only female rowing representative at the 1984 Olympic Games in Los Angeles, where she finished 7th. She also competed at the 1986 Commonwealth Games and came away with two gold medals- in the single sculls, and in the double with Robin Clark.
Many notable names have been added to the Stephanie Foster Cup over the years, including these recent New Zealand representatives…
2003: Napier Girls High School, Emma Twigg. New Zealand Elite Teams: Women's Single 2009, 2010 (Bronze), 2011 (Bronze), 2012, 2013 (Silver), 2014 (Gold), 2016.
2006: Mt Maunganui College, Genevieve Armstrong. New Zealand Elite Teams: Women's Quad 2009, 2010, 2012, 2013
2008: Wanganui High School, Sarah Gray. New Zealand Elite Teams: Women's Quad 2010, 2011 (Bronze), 2012, 2013, 2014, 2015, 2016
2011 & 2013: Kavanagh College, Zoe McBride. New Zealand Elite Teams: Women's lightweight single 2015 (Gold), 2016 (Gold). Women's lightweight double 2017 (gold). Selected in the Women's Lightweight Double for 2018.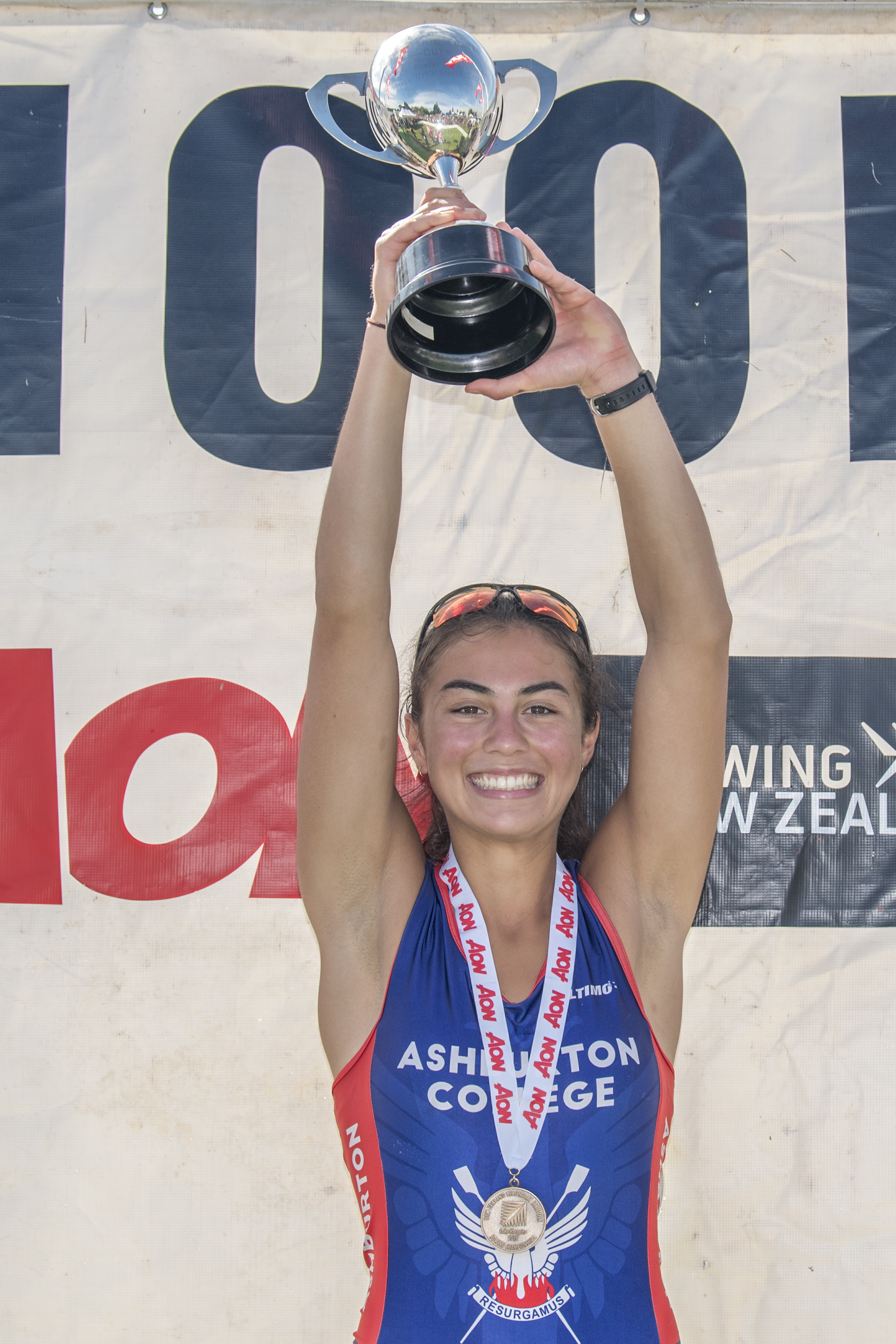 2017 winner Veronica Wall of Ashburton College holds the Stephanie Foster Cup aloft for the second time.
Looking ahead to 2018 after NISS and SISS…
A notable absentee in the 2018 regional field was 2016 and 2017 winner Ashburton College's Veronica Wall, whose record in this event (and recent victory in the U20 single at the New Zealand Rowing Champs) earn her the tag of 'favourite' for 2018. But she won't be short of challengers! In the North Island Westlake Girls took the 1 and 2 spots, with Andrea Fick holding off teammate Sophie Egnot-Johnson, while Jamie Harris of Wanganui Collegiate came home third. Down south, Phoebe Trolove of Craighead Diocesan took a decisive win over Kathryn Glen of Villa Maria College in second, and Haylee Budd of Taieri College in third. It's bound to be exciting racing when the fields come together in just one week's time!
Stay Tuned to our website and Facebook page as we shine the spotlight on more Maadi events
in the lead up to school rowing's biggest week of the year!