With the 2018 heats already underway, we devote our last Maadi Event preview to
the boat class that got the whole party started in the first place: The U18 Eights.
The Maadi Cup
During World War two, Kiwi soldiers in the Second NZEF were stationed in Egypt as a part of the allied defense of the African colonies, and to protect allied control of the critically important Suez Canal. In 1943, towards the end of the war in Africa, the Kiwi's took part in a rowing competition on the Nile river against members of the local Cairo Rowing Club. Following their victory in the Freyburg Cup regatta, Dr Youssef Bahgat of the Cairo Rowing Club awarded the New Zealander's the Maadi Cup (later named by the Kiwi's in reference to the Maadi Camp Rowing Club which the Kiwi's rowed under) as a token of friendship. The cup was brought back to New Zealand and donated to the New Zealand Rowing Association.
In 1947 the Maadi Cup was contested on the waters of the Whanganui river for the very first time. The trophy went home with victors Mt Albert Grammar, and would go on to become on of the most coveted trophies in secondary school sport, and a tradition that has built reputation and rivalries among schools all over the country.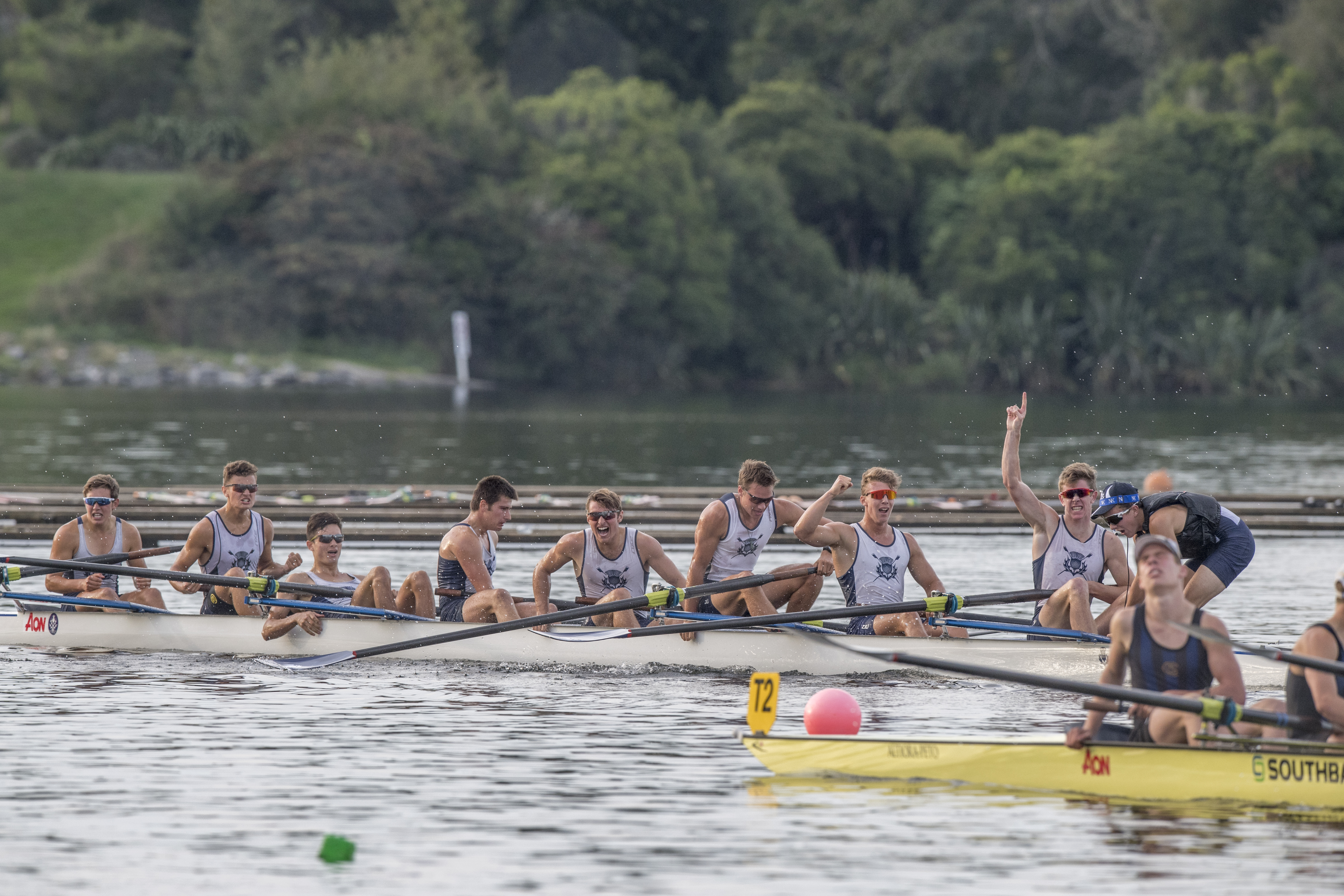 2017 winners' St Andrew's celebrate their win in the U18 eight- the first time the school has ever taken home the Maadi Cup

Multiple Winners of the Maadi Cup 1947-2017:
Wanganui Collegiate (17) 1952, 1963, 1964, 1965, 1966, 1967, 1968, 1969, 1971, 1973, 1974, 1977, 1985, 1986, 2000, 2001, 2004
Christs College (11) 1988, 1989, 1990, 1993, 1995, 1996, 1998, 1999, 2006, 2012, 2016
Hamilton Boys High School (10) 1970, 1987, 2005, 2007, 2008, 2009, 2010, 2013, 2014, 2015
Mt Albert Grammar School (8) 1947, 1951, 1954, 1955, 1956, 1957, 1958, 1961
Tauranga Boys College (6) 1978, 1979, 1980, 1981, 1982, 1997
Kings College (3) 1953, 1959, 1960
Westlake Boys High School (3) 1976, 1983, 1984
Wanganui Tech (2) 1949, 1950
Auckland Grammar School (2) 1992, 2011
St Paul's Collegiate (2) 2002, 2003
More Winners:
Sacred Heart (1948), New Plymouth Boys High School (1962), Wanganui High School (1972), Fraser High School (1975), St Bede's College (1991), Tauranga Boys High School (1994), St Andrew's College (2017).
Looking ahead to 2018 after NISS and SISS:
Christchurch Boys High School took the win at the South Island champs regatta, adding to their gold in the U18 four. Christ College number one came in second 3 secs back, with the school's number two and four crews also making the final, while Marlborough Boys College rounded out the podium in third. Meanwhile in the north, rowing powerhouse Hamilton Boy's High School took first and third place, with the number one crew taking a decisive win over silver medalists Westlake Boy's High School. Of the 5 schools to score medals in the NISS and SISS regattas, Christchurch Boy's High School and Marlborough Boys College are yet to win their first Maadi Cup. We can't wait to see who will take out the 2018 race, and in doing so write their school a new page of Maadi Cup History.

The Levin Jubilee Cup
As interest in rowing grew amongst club women in the 1960's and 1970's, girls events were finally added to the secondary school's regatta program in 1973. It seemed only fair that the girls have a trophy of their own to contest, to match the proud tradition of the Maadi Cup. In 1981 the national secondary school's regatta was held on Lake Horowhenua near Levin, the same year the Levin Borough Council was celebrating its 75th Jubilee. Mayor at the time Jack Bolderson put forward the Levin 75th Jubilee Cup for the girls U18 eight and presented the trophy himself to winners Wanganui Girls College.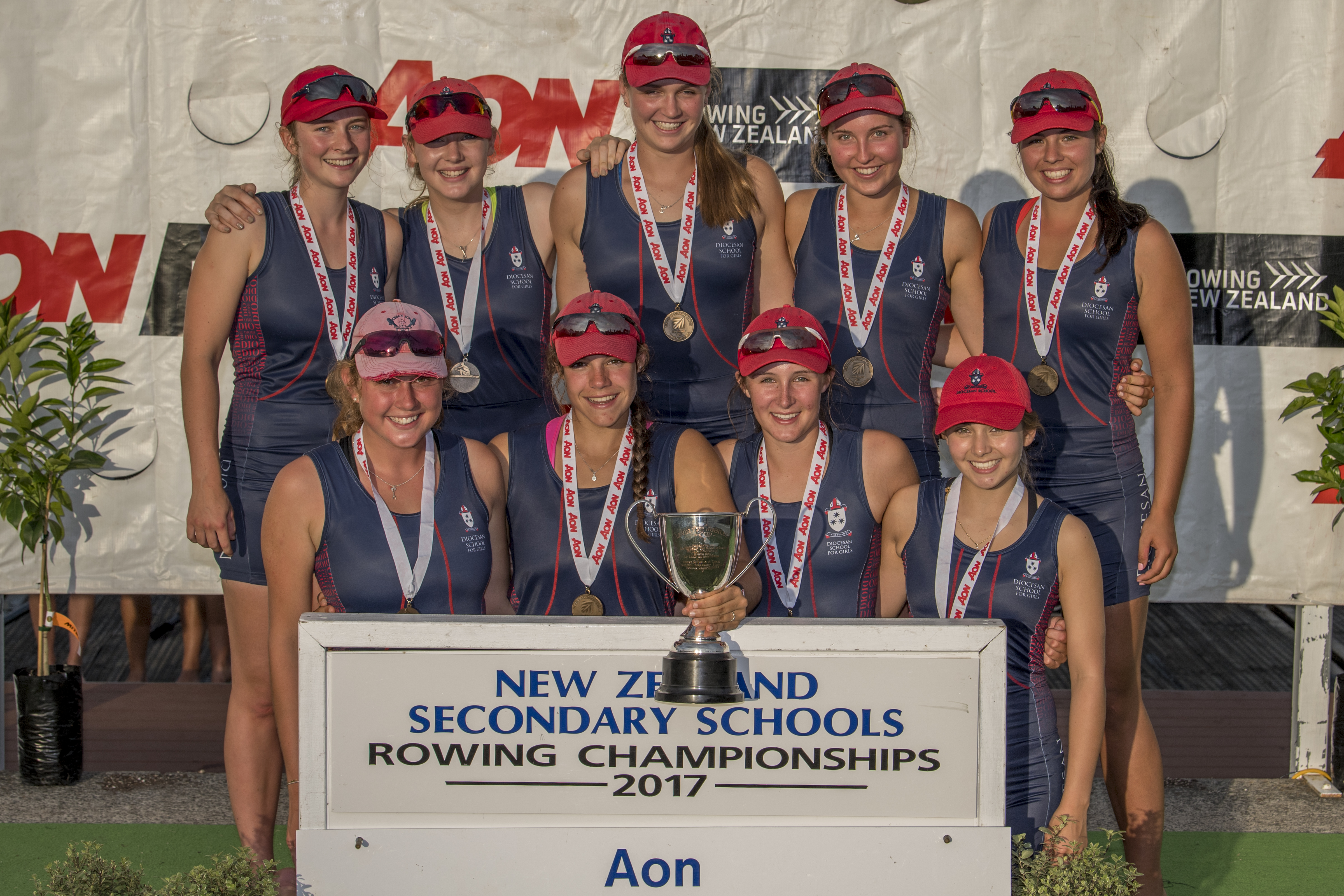 2017 winner's Auckland Diocesan take home the Levin Jubilee Cup for the second year in a row

Winners of the Levin Jubilee Cup 1981-2017:
Rangi Ruru Girls School (15) 1991, 1992, 1993, 1994, 1995, 1996, 1997, 1998, 1999, 2000, 2005, 2007, 2008, 2009, 2010
St Margaret's College (6) 2001, 2003, 2004, 2012, 2013, 2015
Marlborough Girls College (3) 1986, 1987, 1988
Waikato Diocesan School: (3) 2002, 2011, 2014
Wanganui High School (3) 1982, 1983, 1985
Wanganui Girls College (2) 1981, 1984
Westlake Girls High School (2) 1989, 1990
Auckland Diocesan School for Girls (2) 2016, 2017
Wanganui Collegiate (1) 2006
Looking ahead to 2018 after NISS and SISS:
It was a quiet year down south in the girl's U18 eights with just four crews contesting the event. But don't be fooled by the numbers, winners Rangi Ruru have an impressive record in this event, as do second place getters St Margaret's, although they will need to claw back the 5 second gap to their South Island rivals to be in to win. Villa Maria rounded out the medals ahead of Rangi Ruru number two. Up north, St Peters Cambridge took a promising win as they look to secure their schools first ever win in this event. Three-time event champion's Waikato Dio also looked strong 4 seconds back in second, with St Paul's Collegiate another 4 seconds back in third. Much like the boy's event, the 2018 girl's U18 will be a showdown between traditional powerhouses- Rangi Ruru, St Margaret's and Waikato Diocesan, and aspiring winners St Peter's and St Paul's who will hope to add their names to the Levin Jubilee Cup's inscriptions list.
Stay tuned to our website and social media pages
as we bring you updates straight from the bank at Lake Ruataniwha!

Facebook: @Concept2NewZealand
Instagram: Concept2_NZ