There are just two weeks to go until the secondary rowing event of the season: The Maadi Cup Regatta. The regatta itself has a warm place in the hearts of thousands of rowers, past and present, and serves as much as a celebration of rowing culture in New Zealand, as it does competition for a new generation of rowing alumni.
While the regatta is named after the famous Maadi Cup trophy (awarded to the Boy's U18 8+) every event at Maadi has its own significance as a national championship race, and every victory at Maadi holds a special place in each schools rowing history. With that in mind, in our Maadi Cup Regatta preview, we will take a look into just some of the fabled shields and cups of the Maadi Regatta; to help paint a picture of this proud school tradition that has grown into the prestige of the Maadi Cup regatta, and the source of many fond memories for the schools, rowers and coaches who took part.
This week we take a look at the Boy's and Girl's U18 Coxed Fours, feature races on the first day of finals on the Maadi Program, and coveted trophies indeed!
Springbok Shield, Boys U18 Coxed Four
2017 winners St Andrews celebrate with the Springbok shield
The Springbok shield was first contested in 1965 in Oriental Bay, Wellington, with Hamilton Boys High School taking out the inaugural honours. The shield itself was sourced for the event by Cecil Purvis, who travelled to South Africa in 1964 and decided a collaborative shield would be a worthy donation to the National Secondary School Regatta. The Johannesburg youth rowing community worked on the shield with Mr Purvis, and the shield itself incorporates segments of various different woods of South Africa. Inscription tabs in the shape of the African continent give visual reference to the origin of the shield.
Multiple Winners of the Springbok Shield 1965-2017:
Hamilton Boys High School (15) 1965, 1969, 1971, 1972, 1973, 1974, 1976, 1995, 2005, 2006, 2007, 2008, 2009, 2010, 2013.
Tauranga Boys College (8) 1979, 1980, 1981, 1984, 1986, 1987, 1994, 1997.
Christs College (6) 1988, 1989, 1990, 1996, 1998, 2016.
Wanganui Collegiate (4) 1996, 1977, 1985, 2004.
Westlake Boys High School (4) 1982, 1991, 1993, 2002.
St Paul's Collegiate (3) 2000, 2003.
Fairfield College (2) 1968, 1970.
St Andrews College (2) 1983, 2017.
More Winners:
Napier Boys High School (2014), Marlborough Boys College (2012), Auckland Grammar School (2011), Wellington College (2001), Christchurch Boys High School (1999), Kings College (1992), Otumoetai College (1978), Wanganui High School (1975), Rongotai College (1967)
Looking ahead to 2018 after NISS and SISS:
Hamilton Boys is leading the charge in the North Island, with Westlake Boys and Auckland Grammar rounding out the medals, while Christchurch Boys High cement their position as South Island favourites, with two crews from Christs College in pursuit. With an impressive winning margin, Hamilton Boys look to be strong contenders for the win in Twizel, but don't count out the hometown schools just yet. The depth in the Christs squad has the capacity to produce a surprise, along with the on-form Christchurch Boys crew.
Have You Contested the Springbok Shield or Dawn Cup?
Share your memories with us in the comments!
Dawn Cup, Girls U18 Coxed Four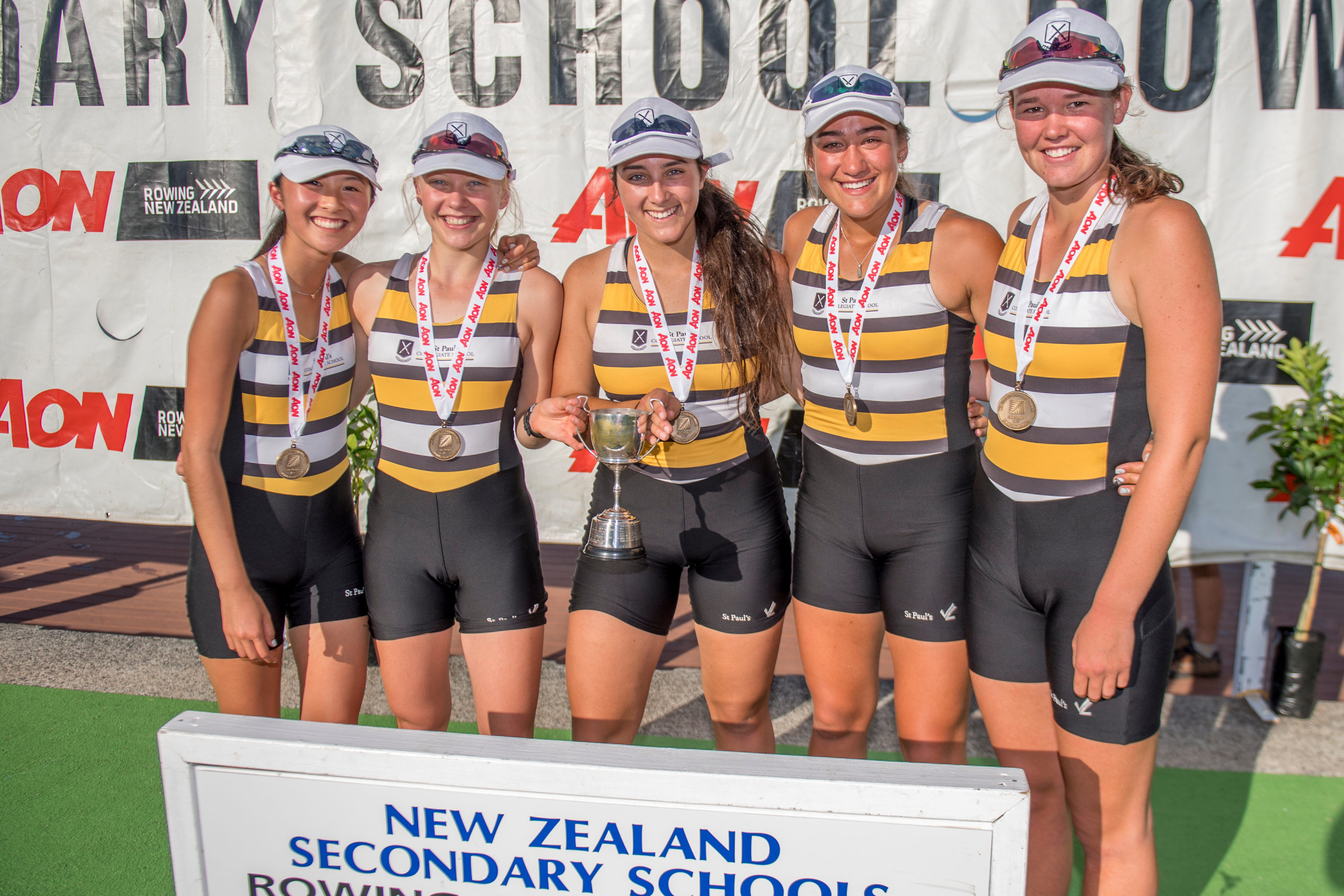 St Paul's take home the Dawn Cup with their victory in 2017.
Girls rowing joined the national secondary schools program in 1973, with the Dawn Cup added to the Maadi cabinet in 1980. The cup itself was donated by Noel Lynch, a former coxswain and tireless coach and administrator of secondary school rowing in New Zealand. That year, delays in the program meant that the girls U19 four had to be pushed from its original Saturday evening race slot, to 6.30am on Sunday morning. The adjusted 'Dawn' race time seemed a fitting title for the new cup, taken home that year by Queen Charlotte College. Over the cups 37-year history, Rangi Ruru school stands on the inscription list with 14 wins in total. In recent years the cup has journeyed around several different schools, in many cases for the first time, testifying to the widespread strength and popularity of women's rowing in New Zealand.
Multiple Winners of The Dawn Cup 1980-2017:
Rangi Ruru Girls School (14) 1990, 1992, 1993, 1994, 1995, 1997, 1998, 1999, 2001, 2003, 2007, 2008, 2009, 2010.
Westlake Girls High School (4) 1989, 1991, 2002, 2014
St Margaret's College (3) 2004, 2006, 2013
Wanganui High School (3) 1982, 1983, 1985
Marlborough Girls College (2) 1987, 1988
St Peters School (2) 2011, 2012
Gisborne Girls High School (2) 1996, 2000
More Winners:
St Paul's Collegiate (2017), Diocesan School for Girls (2016), Waikato Diocesan School (2015), Sacred Heart Girls College (2005), Wanganui Girls College (1986), Nayland College (1984), Te Awamutu College (1981), Queen Charlotte College (1980).
Looking ahead to 2018 after NISS and SISS:
St Peters School took out the North Island honours with clear water back to St Pauls and Epsom Girls taking home silver and bronze respectively. Meanwhile down south, the battle for gold could not have been much closer, with St Margaret's edging out Rangi Ruru by less than .10 of a second! Columba College took Bronze 4 seconds back to stay in the running- this event is shaping up to be a thriller in Twizel!

Stay Tuned to our website and Facebook page as we shine the spotlight on more Maadi events
in the lead up to school rowing's biggest week of the year!