DOB: 28/9/89
Name: Rhys Carter
From: Mount Maunganui
Career highlights:
How old were you when you started playing Motocross? What was it about the sport that appealed to you?
I started riding motorbikes when I was 3 and started racing when I was 4. Its hard to say what appealed as I was so young but I still love it now as much as I did when I was 3 and the freedom and adrenaline rush you get is pretty amazing.
What was the progression to National and then International level like for you? When did you start to see motocross as a career?
It takes a long time to take racing from national to international as we are so far away from anywhere and our resources to get anywhere is really hard. For me it was being in the right plat the right time and surrounding myself with the right people. At the age of 21 I could see myself becoming a professional racer and from that day I have put everything into being one.
All athletes have their ups and downs, what are some of the high points in your career so far, and any obstacles you have had to overcome?
With motocross the Highs are super high and the lows can be pretty low. The Highest points for me in my career are representing New Zealand at the Motocross of Nations (olympics of motocross), Riding for Factory teams in Australia, Racing in the USA and being a Tittle contender in NZ.
The Lows for me have been all the injuries I have over come as I have had quite a few. You get into some pretty down places when you're injured and to come out of those is always hard.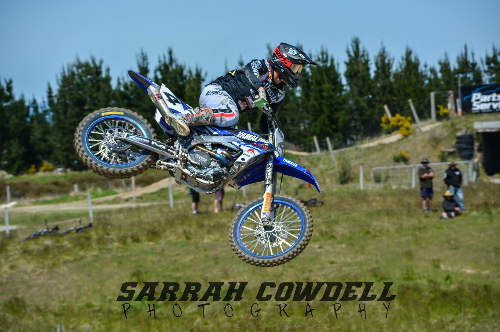 Photo emailed by Rhys Carter- Photo By Sarrah Cowdell Photography
Where are you at with your motocross career now? What are your goals for the future?
I am now just racing in New Zealand and also doing a lot of coaching helping the younger riders achieve goals they have set for themselves which I get a lot of enjoyment out of. My goals for the future are to stay inside the industry and have a strong coaching business to help every rider I can.
Motocross requires a diverse set of skills, how do you train for the diversity of obstacles in each race?Motocross is the most physically demanding sport in the world and you have to train every part of your body. The more training and riding you can do the more prepared you are for each race.
Do you have any athlete role models that you look up too? What do you admire about them?
Ben Townley is always someone I have looked up to in my career he is just a bit older than me and has won a world championship. What I admire about him is the drive and work ethic he has. I love trying and putting in the work and he has always been a person that puts everything into his training and riding.
What is your personal philosophy on Health and Fitness?
Even if I wasn't a professional motocross rider I would still train a lot and eat healthy. I love the feeling of being fit and healthy.
What type of training are you doing at the moment?
I am just coming off an injury so I am back into full training Riding motorbike, Cycling, Gym work, Rowing and swimming.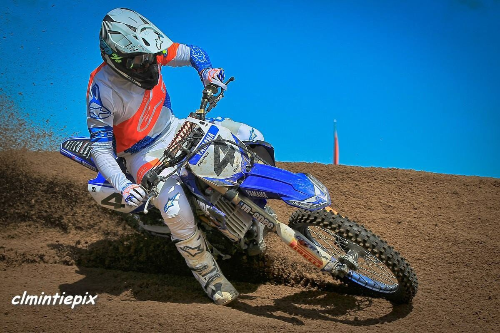 Photo emailed by Rhys Carter- Clmintiepix
What role does the (Indoor Rower, SkiErg and BikeErg) play in your workouts personally?
They are key for my training as they work every part of the body and replicate riding a motorbike I can't find anywhere else that does that.
What do you enjoy most about training on the Concept2 Products?
I love the satisfaction I get after doing a workout on the Concept 2 products. Every time I get off I know I have gotten the most out of my body and feel like I have done a hard session.
With Motocross being such a physical demanding sport, what injuries have you had and how have you rehabbed yourself back to your bike? How have the Concept2 products benefitted you?
I have broken my Tibia, Torn my ACL in my knee, broken my collar bones. The Concept 2 products have helped with my recovery as it work range of motion and with all the different gears they have on them i can slowly put more weight through my body.