Alistair Bond

Event: Open Men's lightweight 2000m Time: 6.10.6 Placing: 3rd
Leah Lassche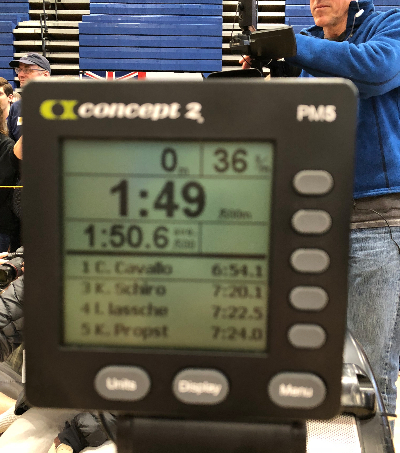 Event: Open Women's lightweight 2000m Time: 7.22.5 Placing: 4th
How did you feel going into the race? What did it feel like to line up next to the other international athletes?
Alistair: Going into the race I was pretty confident. My preparation seemed really good and I was hitting all of my targets in training so I knew the difference between a good result and a bad result was dependent on how I handled the hours just before the race.
Leah: I was feeling typically nervous going into the race. Given it has been so long since I have raced 2km, I actually found it comforting going in alongside the other athletes because as much as I was racing them, there was a sense of camaraderie about what we were there to do that I found really motivating- much better than training on my own! As it turned out, I was seated on the erg next to Christine Cavallo who went on to set a new world record in our race, so that was a pretty special thing to witness too.
How did you feel after the race? Were you pleased with the result?
Alistair: I am not 100% satisfied with my race. In hindsight I wasn't fully prepared to use the Concept2 race system. I got a little bit too caught up in the race itself, and didn't pay enough attention to my own process. I am not sure I could have gone much faster than I did, but it is a bit disappointing that my mental game let me down.
Leah: I was pretty spent after the race! I definitely felt that I had put everything in on the day, so that is all I could really ask for. I had hoped to go a little bit faster, but it was always a bit of an experiment to see how far I could come in three months of training, and all in all I think I performed pretty well. I am very grateful for the training program that my trainer wrote for me, I know I wouldn't have gone nearly that fast without his direction and guidance, so I was fortunate to have that.
Did you have a plan? Did it work out the way you thought it would?
Alistair: I did have a plan, but perhaps it wasn't solid enough. I executed the main points, but could have definitely been tighter with it.
Leah: My plan was basically to go out hard in the first 30 strokes then settle onto a rhythm that felt sustainable to take me through to the 1000m. From there I was looking to notch the split down a bit through to 250m to go, then just go for it with whatever I had left. That was more or less how it panned out, if any part could have gone better it probably would have been the second 500m, as it took me longer than I had hoped to find my mid-race rhythm.
If you could do it again, would you change anything?
Alistair: If I could do it again I would have trialled the race software, and perhaps done some submax 2k training efforts where I could have really engrained my tactics. Having not done a really serious rowing race in 18 months, I was a bit more out of practise than I had anticipated.
Leah: I think if I did it again I would perhaps have a bit more confidence to go out a bit harder in the first 1000m. I was a little too conservative in this part of the race, wanting to make sure I paced myself for the full 2000m. It has been so long since I raced this distance, which can make it harder to get the pacing spot on. Having said that, I could have done a practice 2km before the event but chose to prioritise steady training instead, so this is something I can see the value in now in hindsight.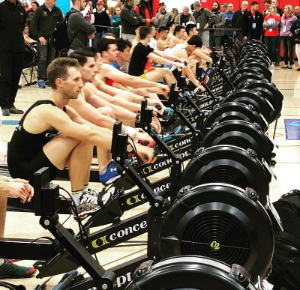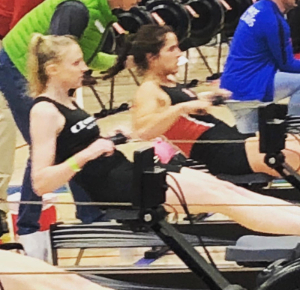 What were some highlights for you from taking part in the event and your trip to Alexandria?
Alistair: I had a really good time in the Nation's capital and got to see some more of the city that I had missed the previous time I had visited. From the event, something that will really stick with me is how passionate people around the world are about their erging! In particular the group of 9 people that came from the Faroe Islands (half way between Norway and Iceland), one of the more isolated places in the world, demonstrates the comradery that can come through suffering together!
Leah: The event was a fantastic experience. I found it really inspiring to see so many different people across a broad spectrum of ages and abilities getting out there and giving it their best. The support of the people who came to watch the event was amazing, very loud and motivating to hear when the race is getting tough. The volunteers running the event were all very friendly and helpful, and all in all it was just a really positive, aspirational atmosphere.
Alexandria as a destination was well worth the visit. I covered some of its history in my postcard during the week, but the significance of the area, and the character of the Old Town settlement was really special and I feel grateful to have been able to visit and learn more about this part of America- highly recommended!
Would you recommend the competition, or indoor rowing events to others? If so, why?
Alistair: I would definitely recommend indoor competitions to others. For experienced rowers, the racing aspect makes racing 2k much more enjoyable than an erg test, and for people just looking to keep fit, an indoor competition is a great event to target as a culmination of your training efforts.
Leah: I would absolutely recommend competitive indoor rowing, and if you get the opportunity, the World Indoor Rowing Champs. The great thing about this event is that it offers everyone a chance to compete; from age group athletes, to elites and relay teams- there really is something for everyone. For rowers who loathe the 2km erg, I would say that an indoor rowing competition is the best place to get it done, the competitive atmosphere and event environment really works wonders to get you in the right mindset for a strong performance.
What, if anything, have you learned from the last three months preparing for the event through to racing?
Alistair: In terms of my capabilities on a rowing machine, I don't think I really learned anything that I didn't know. But I suppose it was nice to see that I could still be competitive with a training load less than half of what I used to do. This will help motivate me to be active and continue to compete in different events in the future.
Leah: The last three months have been a real journey for me. I started with a decent aerobic base from the casual running and cycling that I had been doing prior, but it did take me quite a while to develop the rowing muscles again, and I think if I had another two months to train I would have improved another step further. I have found the indoor rower to be a great leveller, helping to balance all my major muscle groups. I have also learned that good technique shouldn't be underestimated on the indoor rower, and that a lot can be gained from rowing efficiently and using your strength wisely.
Any other observations that come to mind through your experience as a part of Project Alexandria?
Alistair: One final observation following Project Alexandria is that Concept2 is a very generous company around the world (not just in New Zealand), made up of people who work hard to provide a community and experiences far beyond just selling equipment. I would like to once again thank them for helping to provide me with the opportunity to compete at the inaugural World Indoors, and I look forward to supporting future events.
Leah: I know this is nothing new, but it did stand out to me that having an event (in our case the world rowing indoor champs) to train for really made training a lot more meaningful and motivating. I found that even on days when I didn't feel like hopping on the rower, knowing that I had a goal and something that I wanted to achieve really made the difference to me being able to get on and get the workout done. I already knew this as an athlete, but I found it even more relevant to me now that I work full time and have to divide my attention across various different projects. Training for the event made me accountable to myself and the goals I had set. I would recommend setting an event goal to anyone who struggles to find a reason to exercise- there is nothing quite like the sense of satisfaction that can be gained from working towards, and achieving a personal goal.
Concept2 NZ congratulates all the athletes that participated in
the Inaugural World Rowing Indoor Championships!