Project Alexandria: Week Three Update
Whether you are training for Indoor Rowing, or another athletic event, making the necessary commitment to training can be both physically and mentally challenging. Now three weeks in, we check in with Alistair and Leah to see how they are handling the training so far, their highs and lows, and what skills and experience they draw on to stay motivated as the training intensity increases...
How is your week going so far?
Alistair: I started this week well with a solid hour, but for whatever reason I am feeling a bit flat right at the moment. I was motivated to go and do a good bike ride tonight, but my heart rate was well down, and I just felt like I wanted to yawn the whole time I was on the bike! Quite strange really. Anyway, I thought it was best to trust my body and not over do it, seeing as I have a long flight in a couple of days time.

Leah: Training has been steady this week, and I have started to feel more and more comfortable on the erg in the longer sessions. My max duration is still 50mins, which makes for a good, solid endurance session. I went for a bike ride with James in the weekend which was a refreshing change, and I always enjoy training with company when I get the chance.
What were the highs/lows of your week so far?
Alistair: Anytime I complete a daunting session is always a high for me. For example, 5k erg tests were always scary for me. Simply seeing 5000m sitting on the screen fills me with dread! So when I chose to do a 5k the other morning, I got a certain amount of satisfaction out of it. Even though it was about 40 seconds off of my best, simply finishing it gave me a bit of a buzz.
Low points this week have been when on the bike. I got half way through my ride on Saturday, and really didn't want to be there. But I managed to fight the mental strain, and ended up doing a respectable ride.
Leah: A high for me would be getting through both my 50min sessions. I imagine I am not alone in that when I was a young rower I dreaded training on the erg, and never wanted to spend any more than 10 minutes on it in one go. But the duration doesn't daunt me anymore, maybe because I have come from training long hours for 70.3 triathlon which make 50mins seem a lot more achievable. It is also great to have the training zones to go by so I don't end up working too hard, there is nothing worse than going out too hard and fading when you still have half an hour to go!
A low point for me this week would be the heat. Some days I have returned home from work with an afternoon session still to complete, and the hot weather just makes the thought of exercising seem exhausting. I try to make sure I drink plenty of water during the day and crank the fan up to full in my garage which definitely helps!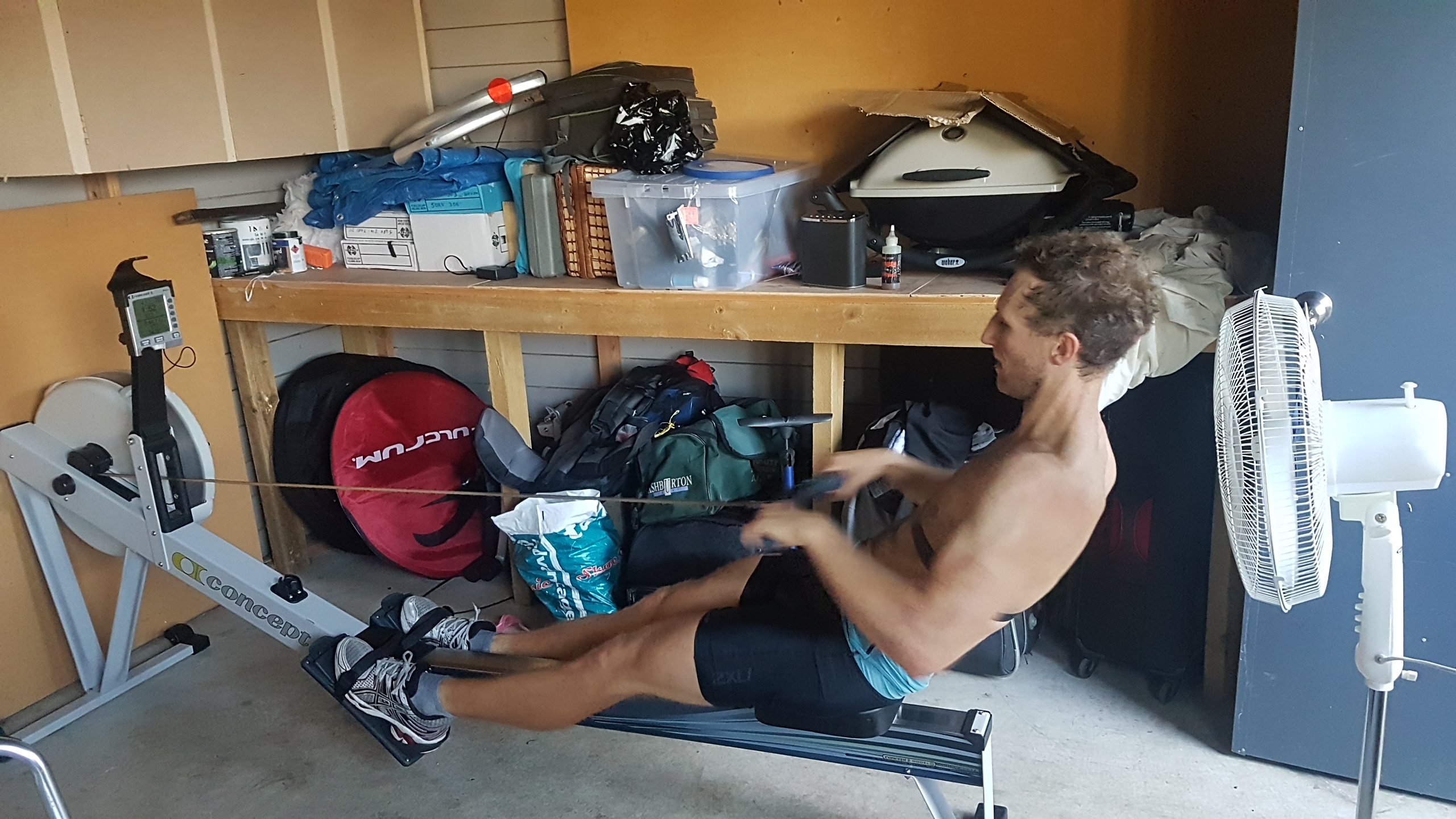 What is your longest erg session to date?
Alistair: Longest erg is an hour. This will be long enough!
Leah: 50mins is my longest, which may increase to 60min in the next month but probably no more than that.
Do you ever get bored on the long ergs? If so, how do you cope with boredom?
Alistair: I do get bored. I always listen to music if I am doing an erg with some sort of intensity involved, or if it something at a more relaxed pace, I find podcasts help to pass the time. Also, its a bit nerdy but I am sure I am not the only one... I always try and work out percentages of how far I have to go.

Leah: For sure. Strangely enough I think a side-effect of training for athletes is that you learn to deal with boredom, in that the more you train, and the more sessions you do where you are having to push through boredom, the better you get at it. I look for ways to distract my mind, counting strokes, thinking about technical improvements, or singing along in my head to the music I have on (I almost always erg to music). In some ways I feel a sense of accomplishment having got to the end of a boring erg, as I know that if I find myself in that position again I'll be able to handle it and still get a good session done.
What is your favorite erg session on your program right now? Why?
Alistair: A session that I have always liked to do is a bit of a classic. 5x500m with 2mins rest in between each 500. I have always found it an awesome prep piece for erg tests, as it helps you develop a good rhythm, and it can give a fairly good indication of what sort of score you are capable of. Plus, it is all over in less than 20mins!

Leah: I guess mine is similar to Alistair's as it is short, sharp pieces that break the session up a bit. On Wednesdays I have been doing 10 x 250m with one-minute rest in between. The rating is set at 32spm, and the idea is that these pieces will help me get comfortable at the upper end of the rating scale which I will need for my 2km race. I enjoy speed work, and this session has a nice combination of exertion and technical focus to be efficient at the higher rating.
When do you find is the best time to erg? What do you eat before and after training to get the most out of your workouts?
Alistair: While a full time athlete, I always felt my best ergs came in the afternoon, and I found it quite challenging to get a good score in the morning. However now this has completely changed, and I quite enjoy getting on the erg straight out of bed. After a 5-10min warm up I am good to go. And while I know it isn't the best for me, I don't eat before the majority of my morning training ergs either.

Leah: I usually avoid erging first thing in the morning as I find it takes my body a bit of time to wake up, but lately (with the summer temperatures creeping up) I've found the morning to be the best time as I don't have to factor in recovering from the heat stress. When I erg in the morning I always have a piece of toast first, then a proper breakfast (and coffee!) afterwards.
What do you think is your biggest strength when it comes to the erg? Do you have any weaknesses?
Alistair: I think my biggest strength on the erg is technically. I believe that having a strong front end of the stroke is more beneficial to getting a good score on a rowing machine than a strong back end, so I have worked on front loading my stroke as much as possible. And I am sure I have many weaknesses, but the thing that annoys me most is that way to often I get off the erg knowing I had more to give. I am a bit of a baby!
Leah: This is a hard one, as I definitely feel I'm still in the process of finding my way back to an efficient rowing technique, maybe that's my weakness for now.
Like many athletes, I have had my share of mental battles with the erg in the past, but I think through the experiences I have had in rowing and triathlon I have become much more resilient which really helps in training and racing when you need to push your way out of a hole, or hold on for dear life! It may not always work out with the result I want, but I get a lot of satisfaction from seeing things through and walking away knowing I did my best.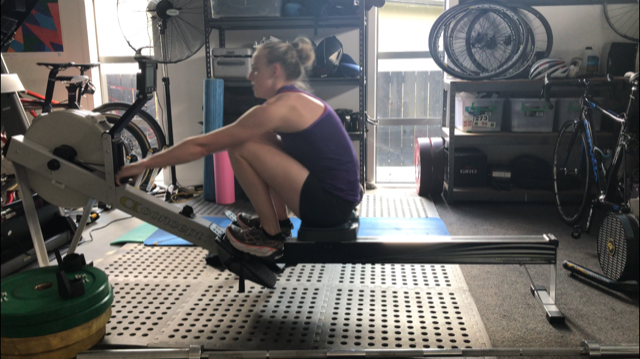 Do you have any goals looking ahead to next week?
Alistair: No goals this week. I have the privilege of travelling to Guangzhou, China with the Otago University Rowing Team this weekend, so will simply enjoy this unique experience.

Leah: Nothing too specific, I'm really just in a phase of doing the time. The more time I spend on the machine, the more comfortable and natural rowing will become, and I am already seeing some benefits of that in my training.
What is the biggest difference between the training you are doing right now and the training you used to do as a full-time rower?
Alistair: I am doing far more high intensity training now compared to when I was a full-time rower. It is more fun, more time efficient, and I believe it is actually more beneficial to me, as I have a good aerobic engine, but very little explosive power and strength.

Leah: Its has been such a long time since I was a rower that I don't really have a comparison haha.
What is one thing you learnt in your career as an athlete that is helping you now as you prepare for indoor worlds?
Alistair: To make it as a full-time rower, you need to learn how to consistently train well and to try and make the most of each session. This used to be quite easy when I had crew mates around me whom I didn't want to let down, but being on the rowing machine by myself in the garage day after day is mentally quite tough sometimes.

Leah: Probably just understanding the training process, and having a good knowledge of my body. When you are putting yourself through a demanding training program, it is important to be in tune with how your body is responding, knowing when you have more to give and when you need some space to recover. I learnt a lot of my lessons the hard way through injury and illness, and it's definitely hit home that good training is not necessarily just about working hard all the time. It's about knowing what the desired outcome of each session is, and doing your best to achieve that. If you can do that, you will be able to train consistently over a long period of time, which I have found is a big part of being successful as an athlete.

Stay tuned for next weeks video update, including insights and advice from some special guests!


Ways to Follow Project Alexandria
Tune in to our website: www.concept2.co.nz

Subscribe to our mailing list

Facebook: @concept2nz

Instagram: concept2_nz, alistair.bond, lasscheleah