Everyday we use smartphone apps to make our lives easier- to get directions to a new place, to access social media or pay the monthly bills- in short, if you can think of it, you can almost be certain there is an app for it!
So, naturally there are a range of apps out there to help make your Indoor Rowing experience even more fulfilling, motivating and educational. To help you find the right app for you, we have narrowed the list down to three different rowing apps, any of which could turn out to be your new favorite workout buddy!
Erg Data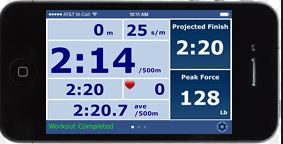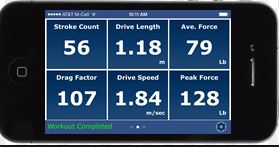 If you're a fan of numbers and stats this is the app for you. The erg data app takes your already high-performing PM3, PM4 and even PM5 monitors to the next level enabling extensive data fields- all for free!
Get to know each element of your rowing stroke up-close with data including Drive Length, Drive Time, Average Force, Peak Force, Drag Factor and Stroke Count. Pair the app with your monitor to enable data recording, and second screen display, enabling you to view all the data you could wish for live while you row.
Saving your rowing data can be great motivation, and a real source of pride as the meters start to add up! Looking back on the data from workouts past can also show you how far you've come in your training, whether you are seeking to hold a faster average split, hit a rating target, or simply row further. Plus, by keeping track of your meters accumulated over time you can become eligible for our million meters club, a truly satisfying mileage goal to tick off!
If gauging your progress, and using data to improve your rowing is for you, you need to try the Erg Data app.
App Name: Erg Data
Compatibility: IOS1.3.5, Android 1.59
Monitors: PM3, PM4, PM5 (PM3 and PM4 with connection assembly only)
Live Rowing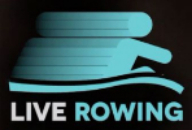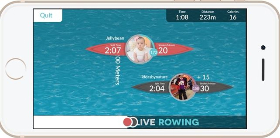 Do you thrive on competition? Do you have someone in your household or circle of friends who you love comparing your erg scores with? LIVE rowing could be the right app for you.
LIVE rowing brings the excitement and motivation of racing into your home or gym, and connects you with other C2 rowers all around the world. The LIVE rowing app allows you to view and race against other people, set yourself goal times to chase, and build custom workouts to use and share (with the premium option). Workout packages from a range of notable athletes and coaches are also available- including one designed by MMA fighter, the notorious Conor MacGregor.
If you are motivated for competition, or enjoy the camaraderie of rowing with other people, then you should give LIVE Rowing a try.
App Name: LIVE Rowing
Compatibility: IOS compatible only
Monitors: PM3, PM4, PM5 (PM3 and PM4 with connection assembly only)
New App Coming Soon: asensei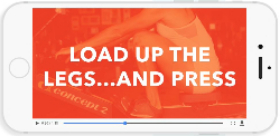 Perhaps you want an app that not only provides the training program that best fits your skill level, but also offers live feedback and motivation? Look no further than asensei!
asensei offers workout programs and goals compiled by some of the most knowledgeable coaches, trainers and athletes in the world, providing a workout approach for all skill, fitness and experience levels. By connecting your device to your PM5 montior, asensei accesses all of your workout data, and interprets it live alongside your workout. In doing so, asensei is able to comment on your form, give you tips on how to maintain stroke rate, and keep you interested as you follow your chosen workout along with the class on screen.
asensei provides the full experience of a rowing class, from coach feedback to group training; all in the comfort of your own home. Concept2 New Zealand has worked alongside asensei developers to ensure rowers of all levels have access to relevant workout assistance, so you can be sure to find the right workout for you. While the app is not available just yet, you can be among the first to try it by signing up to the asensei list at: https://www.asensei.com/

Never used an Indoor Rowing App before? You can purchase relevant accessories such as the smartphone cradle and connection assembly right here at our online shop, or phone us on 0800 769 464 for more information.